It can be fun to breed your own zinnias - Part 23
Hello, everyone,
Welcome to this ongoing message thread. Once again, the previous part of this continuing series, It can be fun to breed your own zinnias - Part 22, has become rather long and slow to load or read, so we are continuing the series here for yet another fresh start.
The same guidelines apply here. Anything remotely related to zinnias is fine. I know that during the Winter months there isn't much zinnia activity, but there is always planning and strategizing. And if you have any related pictures, you are invited to post them.
As I indicated in a previous message, I planted a new generation of zinnias indoors this Fall, rather than bring in cuttings. This picture was taken yesterday of some of my indoor zinnias.
I enjoy growing zinnias indoors because that extends my enjoyment of them into the Winter months. But this year I have an additional purpose for my indoor growing. I want to get a head start on recombining genes from the star petaled mutant with genes from my tubular petaled mutants.
The crosses I made this summer between those two mutants are F1 crosses, and F1 crosses do not exhibit the full range of possible genetic combinations. It is not until the F2 generation and beyond that recombinations of recessive genes can appear. So I hope to produce a decent supply of F2 seeds this Winter so that I can make a big grow-out of them next Spring. It is not until the F2 generation that the most interesting surprises can occur.
I have been cross pollinating some of my F1 specimens to get even more possible variety in the F2 seeds. This is a specimen that is definitely an F1 cross between a tubular petaled specimen and the star petaled mutant.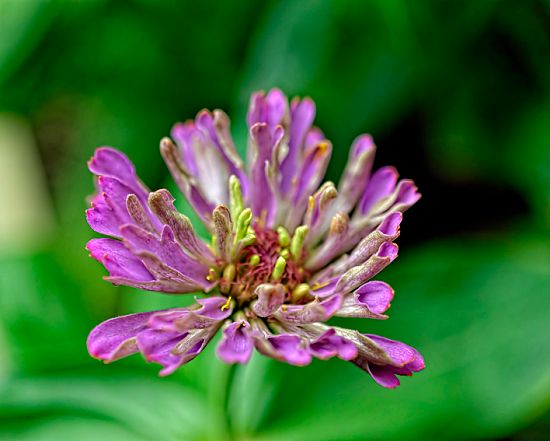 That picture was also taken yesterday. It shows some of the characteristics of the tubular female parent and the star-petaled male parent. I am selfing it and crossing it with other tubular x star F1 hybrids.
I very much enjoy cross pollinating zinnias in the comfort of the indoors while the weather outside is "frightful". I'll keep you posted on my progress. Your questions and comments are most welcome.
ZM