spray nozzle drplet size
mes111
(5b -Purling NY & 7b -Nassau County NY)
February 23, 2013
HI ALL
I am 35 miles south of Albany, NY.
Last summer I finished planting my 60 tree orchard. I will attempt to grow them all as espaliers. A photo is attached. 35 different apples with the rest being Cherie's, plums, pears, peaches and apricots.
Now I am planning my spray schedule and realized that I have seen no discussion as to the size of the spray droplets. Do we need a fine mist, fog, or larger droplets making up the spray.
I have a Wagnerair powered spray paint applicator that sends out a really nice fine spray which I am sure will get into all the nooks and crannies.
Any suggestions?????
THANX
MIKE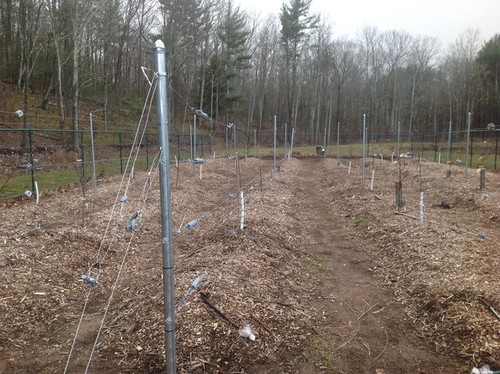 This post was edited by mes111 on Sat, Feb 23, 13 at 0:58