Just Pruned My Peach Tree. Some questions inside
Hi everyone. Yesterday was the first day of spring and so I pruned my peach tree yesterday. When I went to prune, I noticed that the branches already had buds on them and they were greening in some areas. Did I wait too late to prune?
Also, this is my first time pruning. This May, the tree will be 1 year old in my yard. This is how my tree looks after pruning: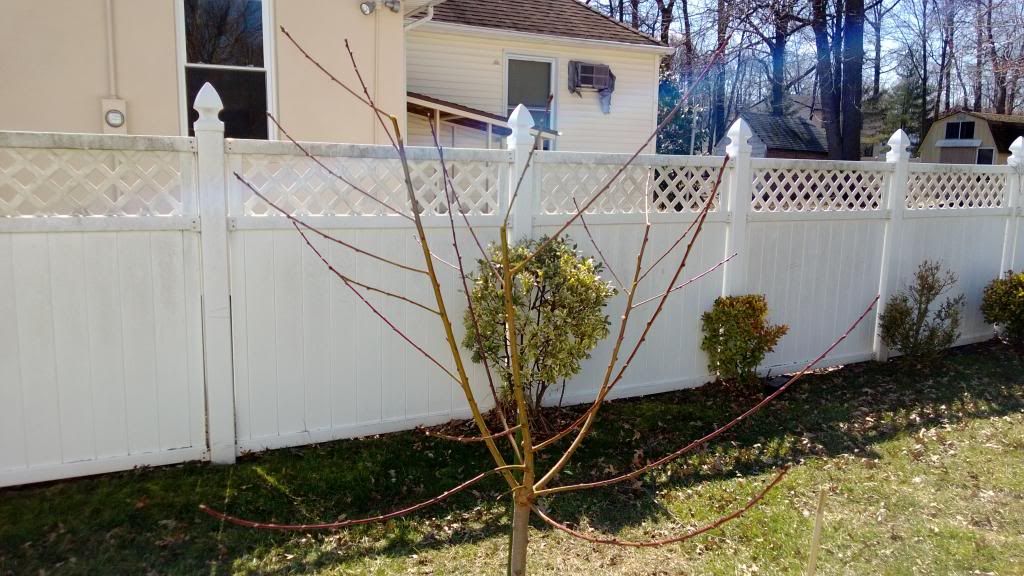 I know its a bit difficult to see whats going on, but here's what I've done with it so far: The tree was a dwarf tree and it was supposed to grow from the branches that came attached to the tree. However, the branches were dead and had no buds on them so the tree started growing out of the top, hence the bulge from where all the branches are coming out from.
The following picture is the same as above, except I've labeled the 3 main branches A, B, and C.
B is the central branch, A and C are the branches that are to the left and right of it respectively

Basically what I've done is that I've cut all the branches coming off of the main branches (are these called scaffolds?) that were intersecting and criss-crossing with each other. Basically, the scaffolds that were pointing inwards for the tree. After getting rid of those scaffolds, I cut back the main branches (labeled A, B, and C) down to where you see in them in the pictures.
My question is, should I cut these branches down a bit more? How is this pruning job? Is it too late to make any corrections?
Here are more pictures of the job after pruning: