Trying to find blackberry variety 'Nelson'
multiflorarose
(5)
March 28, 2014
Hello everyone! I just joined this forum, so I hope I'm posting this in the right place.
I have been looking for a variety of blackberry called 'Nelson.'
I read about it in the book "The Holistic Orchard" by Michael Phillips, where the variety is profiled and recommended. Apparently 'Nelson' is very cold hardy, only beginning to die back at -25� F. Whoa! I was so excited, because it got down to -13� F here this winter and I had thought I couldn't try blackberries. Unfortunately I can't seem to find this variety anywhere. (Note that, as far as I can tell, this blackberry is not being confused with the blueberry variety also called Nelson.) I found a page from an older Fedco trees catalog online and it seems that they were selling it in the past. It's nowhere to be found on the Fedco trees catalog from this year. I haven't been able to find any other information. I would contact Fedco, but they're probably very busy with filling orders right now.
I joined this forum to see if I might find any more information about this variety. Does anybody grow them by any chance? Alternatively, can anyone recommend any other cold hardy blackberries?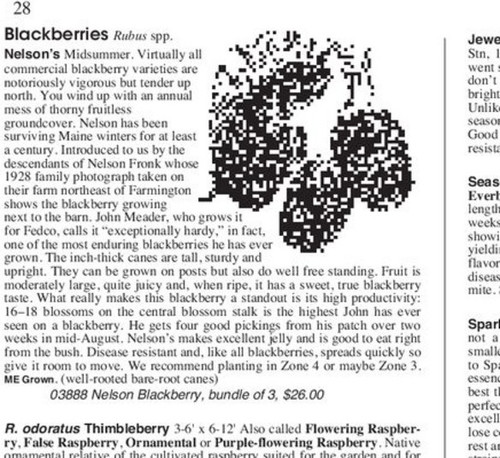 This post was edited by MultifloraRose on Fri, Mar 28, 14 at 17:22