Help pruning fruit trees?
A couple years ago we moved into our new place, and much to our surprise, this row of trees turned out to contain four Apple, two Plum, and one Pear tree!
Knowing a bit of history about the property, the trees probably haven't been touched in 10+ years. As such, they're so overgrown I don't know where to start pruning them. Most of the 'how-tos' I've looked at online start with trees that aren't near this tall and overgrown.
For a scale reference, the yellow step ladder in the attached photobucket album is ~8' tall. We're located at ~4200' elevation, in the high desert of South/Central Oregon.
Pictures are all labeled X - Y. X is the tree number, and Y is the picture number of that tree.
#1 is an Apple tree. A huge split at the base necessitates the two poles I have holding it up. It's at least 25' tall. It will probably need to get replaced at some point since its trunk is just horrible. :(
#2 is another apple tree. There is one big dead limb I'll trim once everything starts growing again. Otherwise, it's also way too tall.
#3 is a Pear tree. It has lots of good tasting and good sized pears. Problem is, I can't get to half of them (LOL).
#4 is another apple tree. It has ~1" diameter apples, and lots of them. My wife thinks it's a crab apple tree, but I think it just needs pruned.
#5 is just like #4.
#6 & #7 are some sort of plum trees/bushes. We've had a total of 5 fruits on one of them two summers ago, but none this last summer. I'm hoping to change that this summer if I can get it cleaned up.
My main question is to learn how to make them shorter and still bear fruit. I've seen that you're not supposed to remove more than 5' of height per year. However, that would encompass 90% of the fruit bearing limbs on most of these. If I cut them shorter, will the trees put new limbs out lower for fruit?
Or, should I find a tall ladder so I can just thin out the branches, cut the water sprouts, and otherwise do normal trimming, just 20' up? We lost a side trunk in #4 last year after it grew too far out and couldn't hold the weight. So, I really want to avoid having too much weight too high and too far out.
I'm also thinking about taking pictures each year as I trim them and making a PDF showing what I did, and the progression over time of each tree.
I can also host a .zip of the pictures if that would be easier to browse than photobucket.
Thanks in advance for any tips.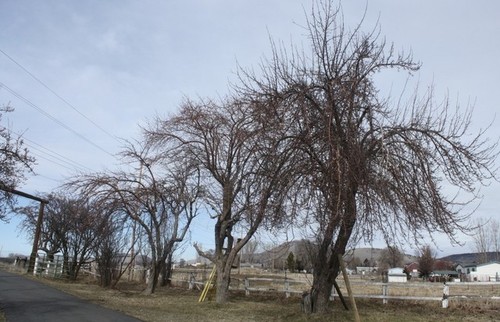 Here is a link that might be useful: My fruit trees on photobucket