Tired if all the waste
milehighgirl
(CO USDA 5B/Sunset 2B)
April 10, 2013
I am often in the backrooms of stores and I have become incensed at the waste of food that I see every day. I want to know if someone knows of a way to utilize the wasted food that the stores will allow. Most corporations are afraid of law suits and therefore do not donate the food to shelters, etc.
I was at Sam's a while ago and witnessed cartloads of rotisserie chickens being dumped in the trash. Apparently by law they have to discard them every 4 hours. I've seen cartloads of Yoplait yogurt, pineapples, and watermelons, really anything that is not pristine and perfect.
I watched a Dirty Jobs a while ago that showed someone taking the waste from the buffets in Las Vegas and cooking it and feeding it to his pigs. This would be far better than dumping it in the garbage.
It used to be that stores would discount the imperfect or over-ripe food but now they won't do it. I have often thought to ask for the fruit so I could compost it but the massive amounts that are thrown away are far too much for me to deal with.
I'm a God-fearing person and I am just really concerned what the ramifications of all this waste will be. Does anyone know of a program that makes use of this waste? The fact is that every food store in this country, and probably most developed countries, throws away a huge percent of their perishable food on a regular basis. I can't take it any more.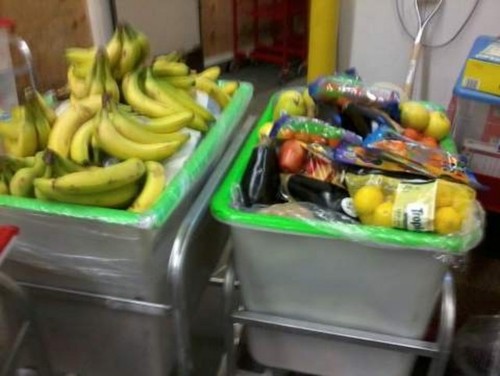 This post was edited by milehighgirl on Wed, Apr 10, 13 at 22:09