easy plant stand idea -styrofoam/concrete
ltd123
(6A southern Ind)
July 4, 2006
This plant stand/ table/ whatever came out great. It was easy, cheap, fast.
size: 12 by 18 and 26 inches tall
weight: 23 pounds - easy to grab and move but feels substantial
how to make:
1. pile up free styrofoam to make a solid rectangle. stab a few long wooden skewers through it to hold the shape- trim with a drywall saw or knife if needed.
2. using fiberglass mesh (EIFS) and quickwall (or any concrete with fibers), smooth on a thin layer (1/4 inch) of concrete over the mesh.... rubbing with your palm to force the crete thru the mesh onto the styrofoam base. You need to overlap the mesh everywhere like you would if you were papermacheing something.
3. mist and cover with plastic - wait a few hours and turn and repeat til entire styrofoam form is covered (top, bottom, sides) - let cure under plastic 24 hours
4. see what you think. If it seems to need another layer - repeat steps 2 and 3 above and cure some more. The one I made has 2 layers.
5. paint/stain/ cover with hypertufa..... whatever you want.
This feels very solid - I had no qualms about asking Lisa (she was helping me tile a floor) to jump up on it and show how strong it is. Sitting on it is actually surprisingly comfortable and I find myself using it most often for a table next to a chair. Since it is a solid styrofoam piece to begin with, it isn't going to collapse with everyday use. I figure the way it would "fail" would be for the concrete exterior to crack and pop off but that doesn't seem likely with the tests I have given it so far.
Here are some photos- thanks to Lisa for being the model!
The second plant stand is larger and made a completely different way. more later about that one.
Laura
click photos to enlarge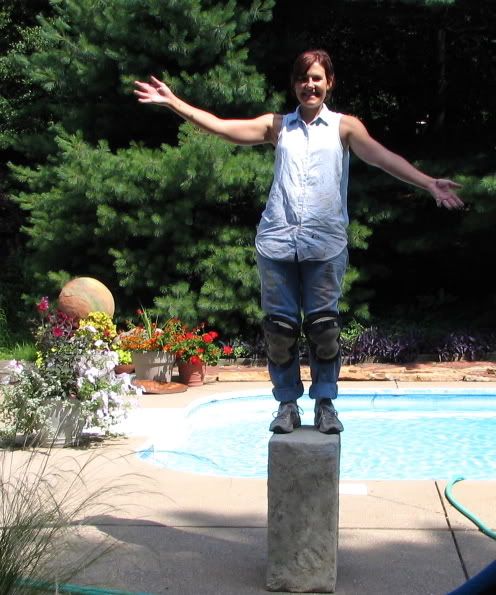 Â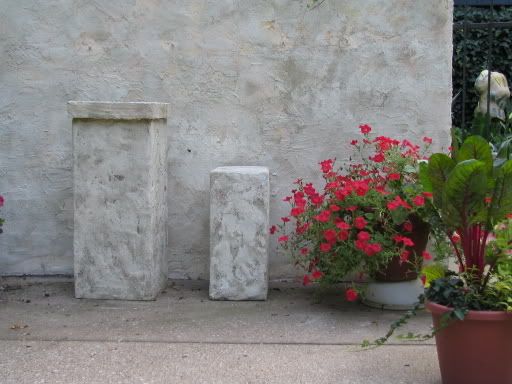 Â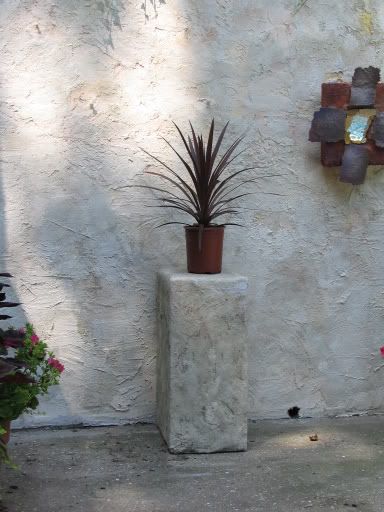 Â