Blackberry Fruit Set Problem
Hello Everyone,
I'm hoping someone here can help me identify my problem. This is my first post here though I often search this forum for answers to my other planting questions so I hope I'm posting in the right place. Please forgive me if I'm not.
The problem I have is that my blackberry bush is not setting fruit properly as can be seen by the picture I have attached. I have also included a link to more pictures so you can get a better idea of what is going on.
This blackberry bush is a start from my grandparents garden in Indiana. My folks sent it to me here in Greece and unfortunately it spent 2 weeks in a box. I was surprised when it actually grew after planting it. This is only it's second year and of course the first year it is producing fruit. Last year the primocanes grew with no problem and around August all I noticed then was that the leaves didn't look quite right but couldn't find anything online that indicated what, if anything, was wrong with it. This year the floricanes set lots of flowers and all of them seem to get pollinated and were growing fruit. As you can tell by the pictures, the majority of the blackberries, have a problem where the whole fruit isn't changing color, is drying out and some of them even look like they've been pierced and are bleeding.
Something else that has had me concerned is that no new primocanes were growing until last week. Since this is my first time growing a blackberry bush I do not know if this is normal or if it is another symptom of the problem the plant is experiencing.
I would be very grateful for any help the community here can give me as I would like to be able to save this blackberry bush if possible. If not, I would like some information on how to grow these, not from a root cutting, but from the seed of the original plant as I'm concerned that if it is in fact a systemic disease that it resulted from it's time in the box while it was shipped to me.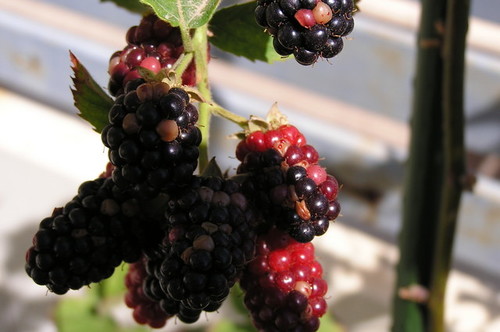 Here is a link that might be useful: more pictures of my blackberry bush