Could use some advice with fruit trees.
I was hoping to get some advice from anyone who has dealt with a problem like mine before. First off, I would like to show an aerial shot of my property from my back deck. I built a raised bed garden several years ago near the back of my property. I, do not see anything wrong with my garden, and would never get rid of it. Here is a picture of some of it. These were the original wooden beds I built, on the left side of the property which you cannot see, is where i have built a large blueberry area and cinder block raised beds.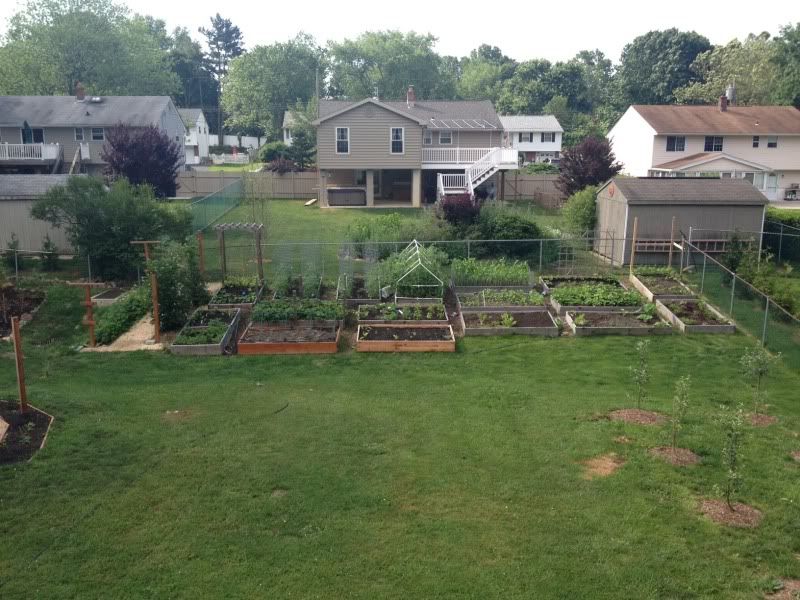 Here is my problem. My neighbors hate my garden, and 3 of them have banded together to do something about it. My neighbors have purchased close to 50 leyland cypress trees to block my property by creating a natural fence. They also tried to get my township to force me to remove the garden on grounds that raised beds are permanent structures. I told them to get lost and they have not bothered me since i recited to them the Pennsylvania Right to Farm Act.
Now, I have 10 apple trees, 8 plum trees, 4 apricot trees and 4 fog trees. My apple trees were growing amazingly well, until about a month ago. Curiously around 6 weeks ago is when my neighbors planted their cypress trees. They also planted their trees right up against the fences which is only 11 feet away from half of my apple trees, 2 apricots and 3 plums. Now all of my fruit trees closest to the cypress trees are all being severely stressed by tons of insects that appear to be living in the trees the bought. My apple trees now all have apple-cedar rust on them. I understand they bought their trees from a nursery, and i doubt they were infected, but now I have spent all this money buying organic trees and preparing the area, just to have me neighbors plant trees which could pontentially severely hinder them.
Not only am I worried about the disease aspect, I am now worried about how quickly these trees grow and how much sunlight they are now going to block from my garden. As it stands, i get full sunlight all day long. However, if these trees get 16-20 foot tall (they can grow up to 4 feet a year), they are going to shade my property until the sun gets high enough in noon. However, during the early spring months, when the sun is low, these trees if 20 foot would shade my growing area for most of the day. I spent a lot of time building my cinder block hoop houses which would be effected by this.
Do I not have solar rights? Does anyone know what your rights are concerning. I understand people should be able to do what they want with their property, as long as it does not damage someone elses. In Pennsylvania if you have solar panels, your neighbor cannot have trees, nor plant trees that block your sunlight, they are called solar rights. Does anyone know if this applies to food production? I spent a lot of time on this property, utilizing and planning to produce the majority of my food that i eat. I bought my parents house which burnt down to the ground 4 years ago and was rebuilt. I would hate to have to move because my neighbors are doing this.
So i guess to sum it up, are my fruit trees doomed? Is my garden doomed? Does anyone have any advice? I know its going to take a few years for these trees to grow, but I am seriously bummed out thinking about it now. One other interesting point, is that we have a 6 foot fence law in my township. No barrier between properties used for fencing may be greater than a height of 6 feet. To me, planting all of those trees is a natural fence, and they would need to be maintained at 6 feet.