Help ID possible apple tree disease
About a month ago, I saw these $10 clearance apple trees at Walmart and decided to get a pair. I know that I planted them a little late in the season and I know that the remaining clearance apple trees at Walmart were probably not the highest quality specimens, but I thought I'd give them a try. Both trees are for Gala, and I know it would have been better to get two distinct varieties, but the pickin's were slim.
I have very poor quality clay soil that does not have good drainage and is nutrient deficient. I mixed in some compost (from my own compost pile) when planting along with some organic fruit tree fertilizer (though, I might not have gotten the mixture right, as I am a novice).
On one of them, most of the leaves are developing this orange-brown rusty appearance and I'm just not sure if this is a nutrition or water issue, or a disease. I've been looking at pictures of diseased and problem leaves, trying to diagnose it myself, but I'm just such a novice that I don't really know what I'm looking at.
Any feedback would be appreciated.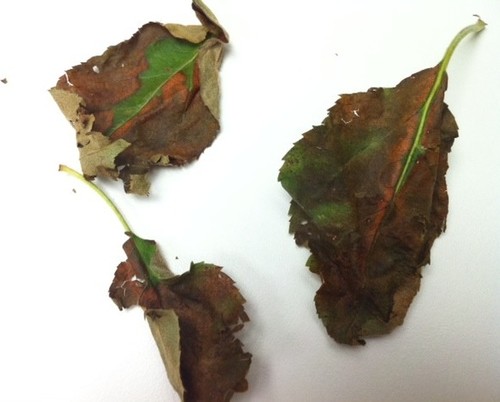 This post was edited by fern1knits on Thu, Jun 20, 13 at 12:21