Did the cherry curculio get my sour cherries?
persianmd2orchard
June 3, 2013
Hi all,
Not sure what is this stuff? This is on English Morello sour cherry which behaves more like sweet cherry sometimes I heard in terms of disease susceptibility than sour cherry i.e. it is more prone to disease. This is a completely unsprayed 2nd year tree. The lesions appeared mostly around the same time about a month ago early spring, doesn't seem to be spreading, stable, about 1/3 of fruit aborted not sure if abortions related to this though since most of aborted fruit just look they were naturally aborting. About half the crop stayed, reddening up now slowly.
Lesion Description: Little brown spots scattered on most of fruit, my macro camera lens revealed while taking pics these are not just brown spots but seem to be indented/cavities. There are also white humpy bumps on a few of them... Not powdery white or anything, just the skin itself looks a bit protruded unevenly in some spots and white in hue in the light on some spots. The white humpy bump stuff is mainly concentrated on one small batch of fruit on a limb it seems.
Lastly, I did appreciate some brown dying tips a week ago (3-4 weeks after original lesions appeared) that seemed to have fine grainy brown texture to go along with it. I snipped those off and there has been no recurrence of this. This brown tip thing I presume was brown rot and unrelated (I hope).
The fruit seem to be ripening OK I think but maybe with ugly little surprise inside when ripe! Unless they all abort suddenly or something. They didn't look too healthy a couple weeks ago, but seem to be pulling through now.
This plant has never been sprayed as I like to wait to see what stuff gets first before I plan an attack.
My first thought was is this PC? It doesn't show classic presentation though--but right time in season and insect bites of some sort make sense... But a lot of em are ripening through and not aborting (at least yet)... Then I saw there is a "cherry curculio" after google image searching for a while. I think I found my guy? Whatever it is--unless you guys think I'm totally offbase here--it is some sort of insect that Surround at shuck split would hopefully help a good deal. Surround seems to have helped PC and OFM for me on peach, but I didn't spray sour cherry as I thought this guy can go no spray... Oh well.
Now I remember a block down someone had a Montmorency that was doing fine no spray many years then one year got hit bad with some sort of worm in the fruit presumably PC or Cherry Curculio. I honestly don't even know if we have cherry curculio in Virginia-it is cited to be a problem in Colorado... I guess it doesn't matter as long as I'm not missing something big and this isn't bacterial, viral, fungal--Surround is the answer (I prefer organic control)?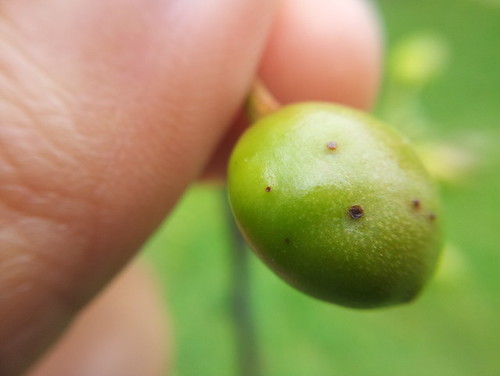 Here is a link that might be useful: Cherry Curculio PDF from Colorado State