Disease on peach leaves
In the past week I have noted that one of my peach trees has developed diseased-looking leaves - the leaves are only in one section ( about 1/4 ) of the tree so far, they get brown spots, then start to yellow, and some have dropped off. When I collected these from the tree, they kind of just fell off into my hand when picking them. I have never seen this before in my little orchard. I do have a mild case of peach scab on many of the peaches in this tree, but I am not aware that it hits leaves. I have been spraying the tree regularly through the season - Immunox every two weeks until several days ago, when it got treated with Monterrey Fungus Fighter (first year trying that). This is an unknown white peach that typically ripens about mid-August, and it tends to get brown rot pretty bad. We have had a very moist, humid summer so far here, more rain that usual.
Any ideas what this is?
Thanks,
Ed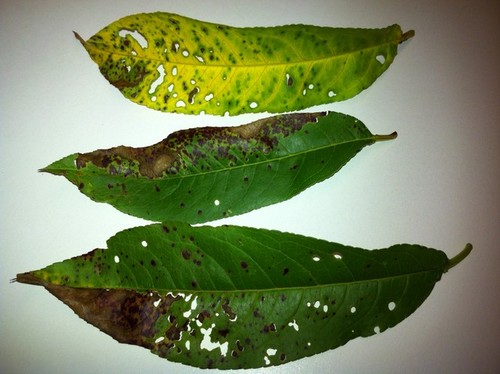 This post was edited by eboone on Wed, Jul 31, 13 at 8:44