Meteor cherry: yellow and brown leaves
bernard_in_ohio
July 7, 2013
This is the first opportunity I've had to have a garden. I planted 3 cherry trees, all from St Lawrence Nurseries, this past spring. Carmine Jewel is growing very slowly but looks healthy. Bali Evans has done very well, doubling its 12" trunk and adding 2 branches, now 8" and 6". However, one of its leaves has just developed a yellow and brown tip just like about 20% of the leaves on Meteor, which came to me infected with winter moth larvae, which I got rid of with an insecticide with Spirosad. I think the lack of leaves near the top of the trunk is due to the larvae demolishing the leaf buds before I knew they were there.
Unfortunately, my soil is mainly clay. When I planted the trees I made the holes extra big and put 20 lbs each of mushroom compost and manure in each hole. I've used no fertilizer, but have watered 2x daily, about 5 gallons each time, drip-style, through holes drilled in the bottom of the sides of big pails. I've used a 50/50 blend of water left out overnight to let the chlorine dissipate and compost tea made of straw, leaves, seed pods and grass clippings. When that stuff is thoroughly decomposed, I pile it up as mulch. In the pics the mulch is way down; time to pile it up again.
Am I having problems because the roots can't get to the water? A different cause? Can it be fixed? If the trees get through the winter, will they do a lot better next growing season because the mulch will have gone down into the soil? I've put in a lot of those worms that are supposed to go way down and want to put in some more around Meteor. Could the worms help the roots penetrate the soil?
Thank you for any and all advice.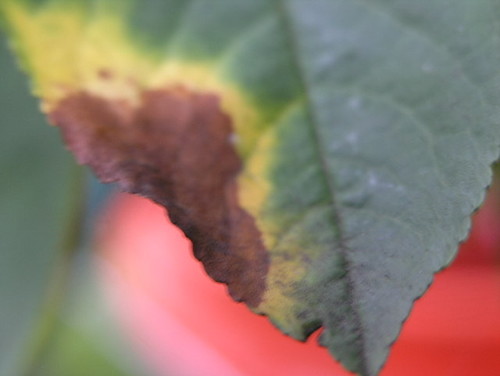 This post was edited by Bernard-in-Ohio on Sun, Jul 7, 13 at 13:56