State Fair ready already
Our State Fair apples are ripe- the earliest we've ever had them. Pretty dern good, too. We only got about a dozen, and promptly bagged and refrigerated them. They won't last long. Also sampled what I think is a Pristine, and it needs about another week but is already very tasty. These two early apples stand up pretty well. Good crunch, if a somewhat more open texture than I like, juicy, sweet, subacid but still sharp enough, pretty and good sized. The Pristines are actually quite large. No sign of codling moth on either. The picture is Pristines on the tree, and the link is to the State Fair apple.
If the weather holds we may actually see the Stayman's Winesaps ripen this year, which would be a first for us. Last year frosts killed off most of the blooms on apples and pears and we got very few of anything, so this is going to be a welcome change.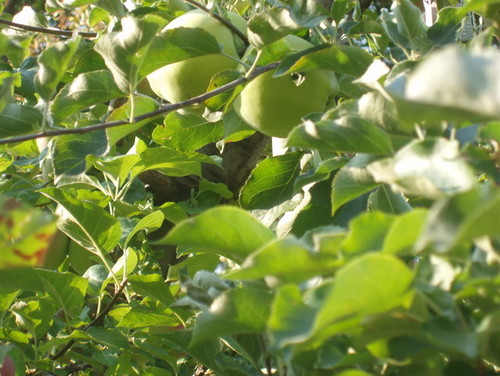 Here is a link that might be useful: State Fair apple on Orange Pippin website