Sunshine blues finally get some love and a great deal
bamboo_rabbit
(9A Inverness FL)
October 2, 2012
Just a couple of items.....I was having trouble with my birds scratching the mulch out of the sunshine blue blueberry bed in front of the house on to the bricks so finally got around to putting in a retaining wall. Just landscape timbers cut to 2' with a point cut in to them and driven in a foot. I may end up putting it around the entire front but very low so I can mow over it. The yard is Zoysia and I get tired of pulling the runners out of the bed.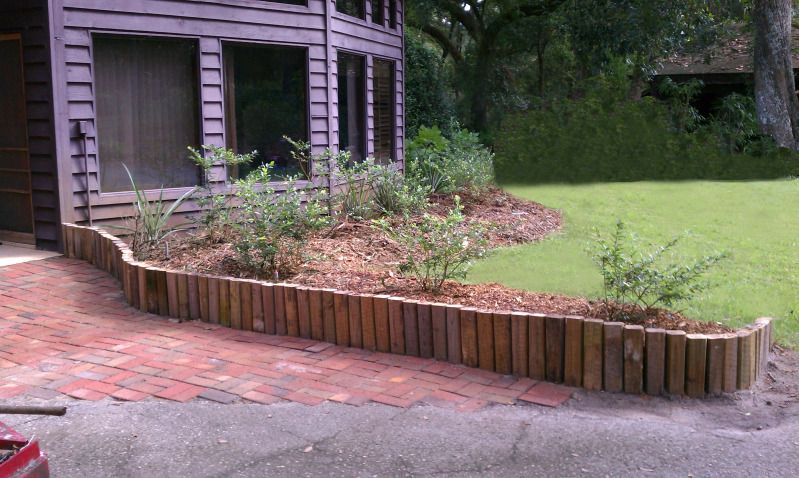 I was driving by a local owned garden center and they had a 50% off all plants sale sign up so had to stop in. I figured it was one of those jack the prices up then have a sale thing but turned out not to be the case. I ended up buying two figs that had bases the size of 50 cent pieces and 3 Star blueberries as I don't have that variety. All they did have was star and windsors but they had a lot of them. The plants were GORGEOUS...leaves spotty but to be expected on nursery plants this time of year. Originally $14.99 so $7.50 a plant in a 3 gallon pot. You can see the golf ball for comparison and just how big the base is. You can see the bull canes are very thick and the plants very full, bit too full. The bull canes had been topped at about 3 feet and had about 12" of new growth. The place had apples, peaches, pears, persimmons, plums, grapes..you name it. I had to leave fast before I bought more.
I talked to the owner on the way out and he said business has been slow and had to make payroll.
Just to show that bargains are out there.