Fall Bearing Blackberries
I'm enjoying fall blackberries with the Prime Ark 45 blackberries that I planted last year. They started fruiting at the end of August and they are about 50% complete although there are a number of canes still blooming. They could produce berries for another 30 days but we usually have our first frost about mid-October. I'm going to cover them up and see how long I can keep the fruit going.
Since the Prime Ark's produce early on the floricanes and late on the primocanes, it really extends my fresh berry season. At $4.00 per half pint for fresh blackberries this time of year, I finally feel like I'm recovering some of my investment. I'm getting a half pint every other day.
I'm thinking about adding a second variety of primocane fruiting blackberries. Has anyone tried the "Black Magic" Blackberry sold by Gurney's?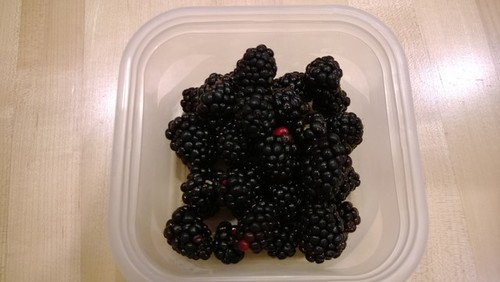 This post was edited by jtburton on Sat, Oct 12, 13 at 21:00