Garden 2008 Photos- Organic Potager in the works!
arwmommy
(9b So. Calif.)
March 24, 2008
OK, the garden is ready! Thought I would show you what I have been working on for the last week or two.
We are now planting--- herbs have gone in, and so have carrots, haricot verts, sugar snap peas and lettuces. It is still cool here at night, so we will wait a few weeks to put everything else in.
We have 4 boxes in a row (they are 4'x6') and a 10'x2' box on the side. They get sun during the morning to early afternoon and are shaded in the hot afternoon sun. In the back is my planting desk :) and the compost pile is behind the lattice on the right. All the beds have irrigation pipes running around the inside perimeter. We control waterflow by changing the heads (to spray a 1/4, 1/2 or full circle) and by putting in, or plugging up more heads. These are all connected to the central irrigation timer for our whole yard. Unfortunately EVERYTHING must be irrigated, as we only get rain in the month of February (with intermittent sprinkles in Oct-Jan-- like for a day or two each month!)
My DH's fabulous idea of covering the fence to the right with tons of sunflowers, from 2'-12' high was so great last year, so we have the seeds already in along the fence, and can't wait to see them come up.
The garden is also filled with lots of loved objects-- the chairs from my childhood dining room table, the desk of my fathers that was falling apart, an old found wheelchair (my father has been a paraplegic since age 6, though it was not HIS chair, it makes me think of him!), the sign for my father and husbands CPA practice before they merged with a large practice, other wonderful little things that make it OUR garden!
First photo is of the whole garden, second is a close up of the back, and the third is standing in the back, at the desk, and looking to the garden gate.
We have:
Butter Lettuces (green and red)
Haricot Verts (super skinny french green beans)
Carrots (orange and purple- daughter's pick!)
Sugar snap peas
12 kinds of Heirloom Tomatoes: 1884, Heart of Compassion, Paul Robeson, Earl's Faux, Kellogg's Breakfast, SunGold, Amy's Sugar Gem, Hawaiian Pineapple, Black Ethiopian, Mortgage Lifter and Goose Creek
Pumpkins (the tiny Jack Be Littles, and carving pumpkins)
Corn
Yellow Squash
Zucchini
Butternut Squash
Tahitian Squash (a sweet winter squash- new for us this year!)
Watermelon (small Sugar Baby)
Cantaloupe
Hot Pepper
Sweet Pepper
4 Mini Sweet peppers (red/green, orange, yellow, chocolate)
Cucumber
Basil
Thyme
Sage
Oregano
Cilantro
Italian Parsley
Dill
Mint (in a pot so it cannot escape and take over the garden! That's it up close in the first photo!)
and various edible flowers to make it look beautiful- nasturtiums, marigolds, chrysanthemums, chamomile, etc.
Whew! Its work, but is great to see how much the kids love it!
I will try to post monthly photos here so I can chart the progress of the garden! I hope you enjoy it!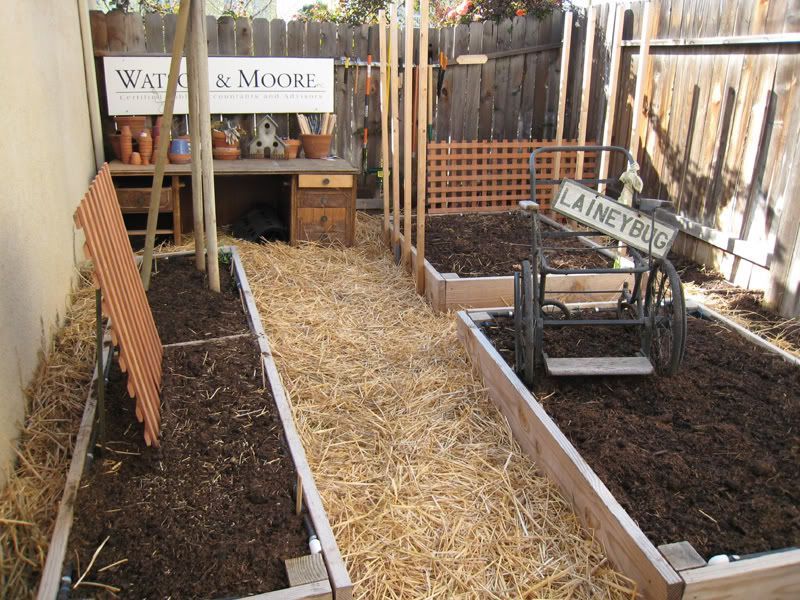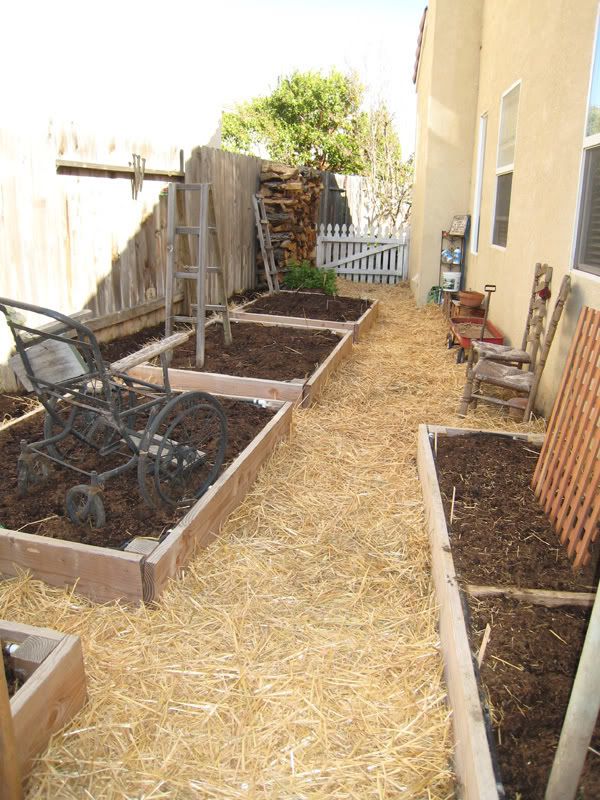 arwMommy
Mama to two kids, ages 5 and 9, 1 big dog, 10 chickens and a husband of 14 years!