February bloom report
rosefolly
February 20, 2012
Here in the SF Bay Area it is definitely spring. At less than three inches of rain so far and very little frost, we never really had a winter.
I thought it might be fun to see what is currently blooming in various gardens. Here in mine, many plants are budding out. Early daffodils are in bloom, as is the rosemary. Other bulbs include the first few spring starflowers and some very pretty blue bulb I planted and forgot to record.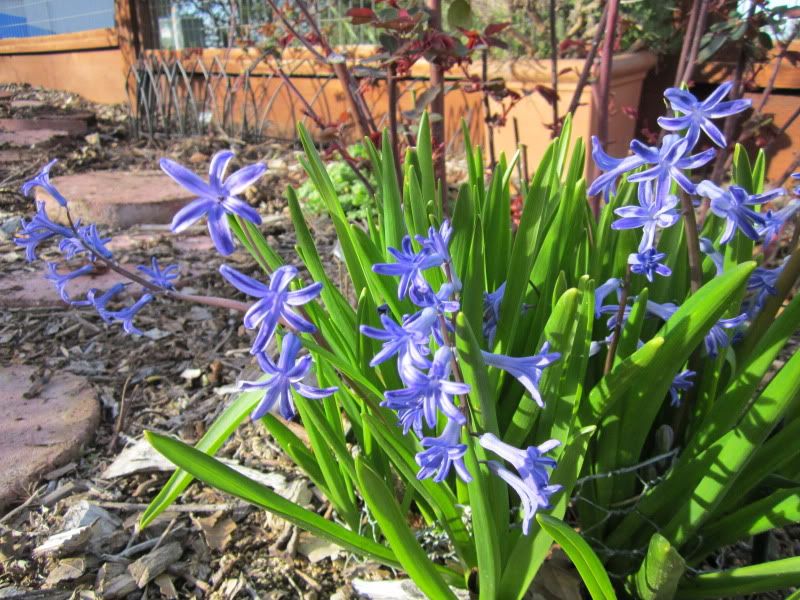 Mystery bulb I planted last year -- English bluebell?
Alas, so is the bittercress in bloom. Long ago I nicknamed this the Exploding Seed Weed, and of course, the oxalis is opening its cheerful and prolific flowers. I try to pull up a minimum of 100 oxalis a day, sometimes a 1000. 'Menton' tulips have sent up leaves, telling me that these may actually be perennial here, that is, if the gophers don't get them all.
As for roses, all the roses I recently pruned are starting to put forth new leaves. Which will bloom first for me? Probably it will be no contest, as I am seeing a pale tease of gold on the buds of my Double Yellow Lady Banks. I'm thinking it will have no problem living up to its alternate name, the Income Tax Rose.
What is going on in the garden in your part of the world this February 2012?
Rosefolly