What does healthy 2-3 year old wood look like in the center?
blazeaglory
(10 SZ22/24 OC Ca)
December 31, 2013
I have been fighting a 2 year battle with a canker syringae (sp?) on my peach tree of nearly the same age. Last year it seems like the canker subsided as I cut well below the infected area and it even seems like copper sprayed on the open cut helps to slow it down. I had a bunch of nice peaches. Now I am pruning my branches back a bit and I noticed last years wood has a dark brown almost "resiny" hard center. Ill take a picture later but does that sound right?
Otherwise the branches and buds look good but the inside center is thick and brown (not really gooey or soft) but brown and "resin" looking.
The picture was taken almost 2 days after being cut so the outer rings have darkened a bit but otherwise were bright white/light brown when first cut.
And Merry Xmas and Happy New year to everyone. I hope your garden grows well!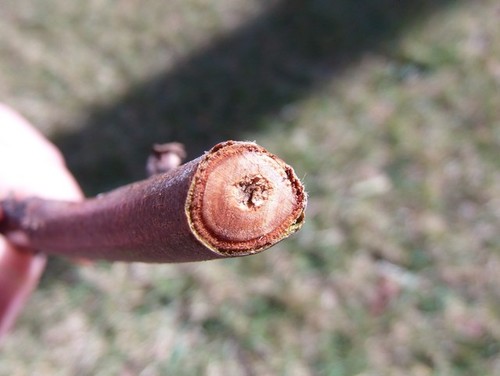 This post was edited by blazeaglory on Wed, Jan 1, 14 at 17:34