Huge pomegranate tree with terrible fruit
Hi there...I just bought a house with an 80-year-old pomegranate tree, and moved in just in time for the harvest. The tree was beautiful: 30 feet tall and full of big red fruit...but the pomegranates were terrible! Insanely sour with a bad aftertaste.
It took forever to get all the fruit off, most of which had split open, and I ended up sending 400 pounds of pomegranates off to the city composter.
The leaves are yellowing now and dropping. Wondering if I should prune back to the bigger limbs (3/4" and up) this winter?
Certainly going to feed it with citrus food this spring, and plan to remove half the fruit after flowering, hoping to improve the fruit's flavor.
Any other ideas or suggestions?
thx,
Pearubu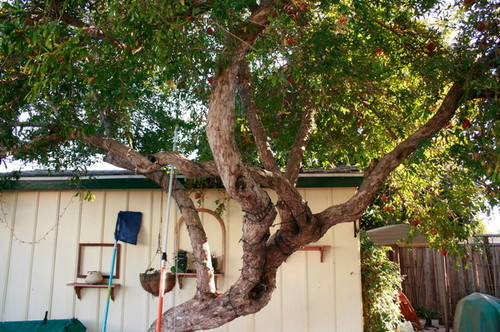 This post was edited by pearubu on Fri, Dec 20, 13 at 17:35