Any ideas to id this rose?
nikthegreek
(9b/10a E of Athens, Greece)
March 22, 2014
I see this rose at the edge of a neglected property not far from my place, on my way to work. I'm sure it is a once bloomer since I only notice it in spring. The other day I stopped and took some pics. I was hoping it might be an interesting find but I then realized it most probably is an understock that has mostly taken over a struggling HT. I can not be sure about it since the base was an overgrown thicket and could not make out whether this was true but I strongly suspect that is the case. You can see the budding red HT in a follow up picture.
I'm far from well versed in identifying roses but this looks like a china to me. I could not notice any fragrance at the time. SInce I know that R. indica 'Major' has been extensively used for understock in Southern Europe I suspect that this is a 'Major' cultivar. What do you think?
Nik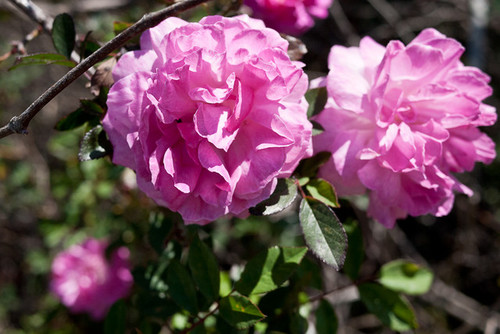 This post was edited by nikthegreek on Sat, Mar 22, 14 at 17:47