My first greenhouse
dadhaslonglegs
March 6, 2010
I ordered this off ebay. Probably too much money for what i got, but i needed to start somewhere and didn't want to spend a ton. I know for a fact i'm going to jump to a 12x20 hoop house or bigger and cover my entire bed, use this one for young tropicals (palms, bananas, plumeria in the spring/summer/fall). Its 6x10 and probably 7ft at the peak.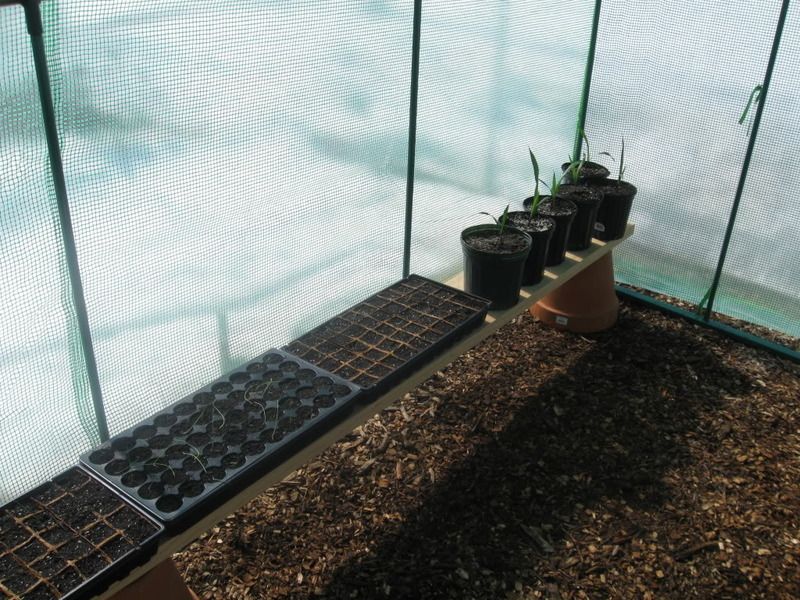 Couple of things. It gets HOT in there. I had 93F the other day with 36F outside temp. At night it drops to outside temp, so it doesn't hold any heat (which i knew would be the case). I take all the plants into the house.
Wood chips on the ground, not good. I think i know where the condensation is coming from (the ground was frozen when i first put it up, its thawed out now). I think i'll move it onto some pavers for a more solid flooring. I also will put it on 4x4 posts i think and secure it.
Its already too small. Go big or go home! I want to grow tomatoes/peppers/eggplant under plastic and that is the game plan in the future with a large hoop house. I'm in Wisconsin, so while these will do fine outside, they tend to not ripen until August, so the plastic should allow me to speed that up a month.