Pictures of New Hoop Buildings
jrslick (North Central Kansas, Zone 5B)
March 30, 2008
Here is my versions of a high tunnel. I want to say thanks for everyone who gave me advice. I considered everything that I was told and everything I read. I finished the bigger one two weeks ago and the smaller one last week. I always forget to take pictures!
I know I did a few things different. They are not very long. I was limited on funds and I don't have a very big market to sell at. I didn't want to over produce and have no where to sell it.
The bigger building is 12'2" by 18' 2" It is made out of 1" PVC pipe with a 6 mil covering. The end has two storm windows, love the freecycle sites, the same size as the one you see. I can easily open and close them. I can also remove the glass later in the spring. The corners are set in the ground 18" and there are 1 by 8 side boards. They are not treated. The wood was free, it was in a building when we moved here 5 years ago. I know the sides don't open up, but with the wind on top of this hill and the shortness of the building, I hope it will be ok. Time will tell. I am planting tomatoes and a few bell peppers in it. The tomatoes will be going out this Wednesday.
The smaller one is 8' 6" by 12". It is three cattle panels put together. I built it because I had the three panels sitting and not doing anything. It only cost me $18 for plastic and my time. I am going to grow cucumbers in it this spring. If they get too out of control, I will pull the plastic and let them grow on the cattle panels for an additional trellis. I am planning on starting cucs this week and plant out in 2-3 weeks.
I hope your garden is going great!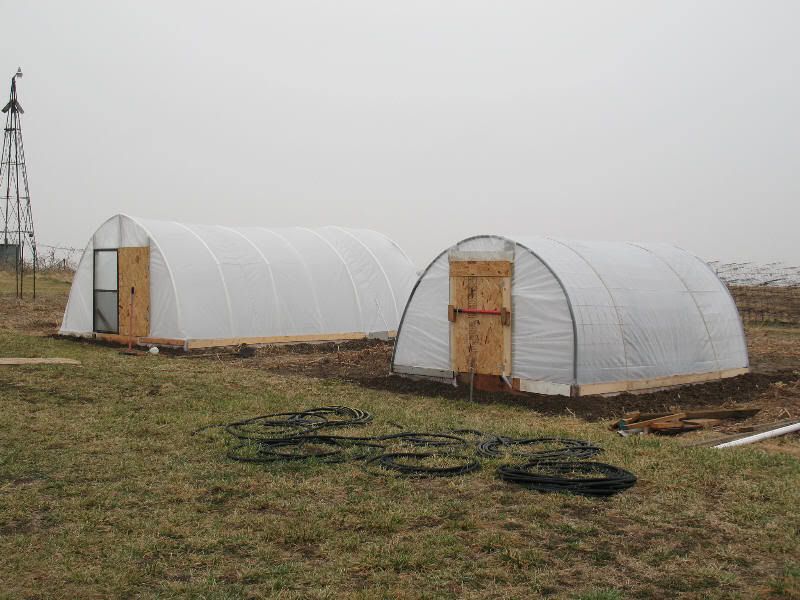 Here is a picture of my hoop buildings.