My David Austin bare roots arrived today & I am very disappointed
Dinglehopp3r z7A. EastTN
April 25, 2014
Hello, I am very new to growing english roses, and really most roses in general, so I would like some opinions on this problem I am experiencing. I ordered 3 bare root roses directly from David Austin, when I came home from work today the box was here waiting, I have been SO excited about them for some time, but when I open them up & start to look over them I am very surprised and disappointed in what I find, out of the three bare roots I ordered only one of them was a perfect specimen, the other two have a couple of issues I wanted to ask about.
First and foremost my "Lady of Shalott" has a big fat split down the center stalk, starting right between the only two big roots that are on the plant, it is so bad that one half of it will need to be removed (it probably would just fall of during planting it is so bad), leaving only one main root, which will provide absolutely NO stability in the ground at all, not to mention the lack of nutrients this plant will inevitably experience because of the small root system & the probability of disease from having a big wound right in the center of the plant.
The second problem would be something I am not sure is technically a "problem" but I personally find it to be a problem... the "golden celebration" rose arrived with only 3 canes, and two of them are facing the same direction, so really it is more like a 2 cane plant, because one will eventually need to be pruned off because they will be competing for space ... The other two plants I got (and every other bare root I've ever bought) had at least 4 or 5 main canes, with several smaller canes coming out all over the place, this one only has the three. I did some research and for a bare root rose to be considered "grade 1" it has to have at least three canes, which this one technically does, but I have also heard you should choose bare roots that are shaped like a hand, with all the main canes pointing in different directions, which this one is not even close, so I don't even know what to do or say about that one.
I am happy that at least my "Lady Emma Hamilton" arrived beautiful and healthy, but I really expected much much better when ordering directly from David Austin, and paying top dollar for the root and the shipping. In your more experienced opinions, should I be as upset about this as I am? I can't imagine the lady of shalott is salvageable, and I will be calling David Austin about that in the morning, but what of the golden celebration? I was promised a grade 1 plant, and in my opinion this is not grade one... what action would you take? Those of you who have dealt with David Austin before, do you think they will take measures to fix either of these situations for me? I had to forego the one year warranty on these because I ordered them "too late in the season for my zone" (really April 23 is too late? the date of my last frost was April 15- apparently I knew less about roses than I thought) So I am a little worried, I really hope that they come through and help me out with this.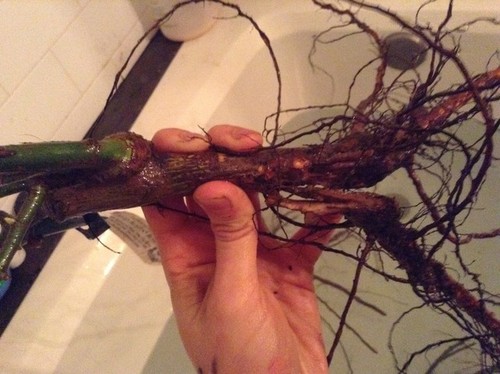 This post was edited by Dinglehopp3r on Fri, Apr 25, 14 at 23:57