Your most tough, healthy, no-spray roses?
strawchicago
(zone 5a)
May 10, 2013
I bought Annie L. McDowell for my sister in CA as a gift. She wasn't happy, citing that roses are too fussy & need chemicals. I gave roses to a neighbor, but she won't take them, citing that roses need spraying. eHow has a webpage, "How to hate roses", citing roses are bad for the environment, with their need for chemicals, fertilizer, and water.
That's NOT TRUE, I have 52+ roses and I don't spray. Some of them I haven't watered for 6 years, since I buried them deep. My sisters bought only Knock-outs, since they think only Knock-outs can survive -20 F winter. All my own-roots survived my zone 5a winter, except for mini-roses.
Below are my 4 favorite always-healthy roses: Foreground is Annie L. McDowell (zapped by snow and hail early April, but bounced back), big white bush is Marie Pavie, white bush behind is Mary Magdalene, green bush to the right is Frederic Mistral (he blooms late). Picture taken June 6.
What are your most tough, healthy, no-spray roses? Thanks for info. about your soil and climate, to help folks choose appropriate roses.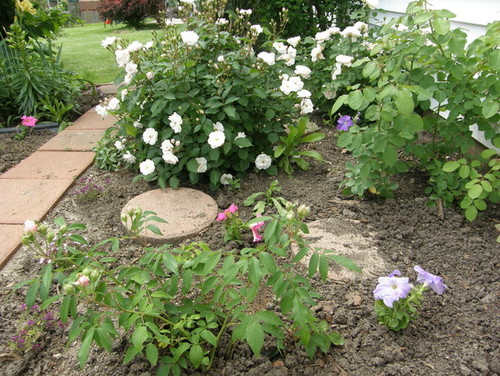 This post was edited by Strawberryhill on Tue, Jun 4, 13 at 15:49