Winner & losers roses for your soil /climate/rootstock
strawchicago 5a IL
(zone 5a)
May 25, 2013
I had lots of hybrid teas grafted on Dr. Huey that black spotted badly my last house of acidic clay, mulched with acidic pine bark despite spraying. I'm checking to see if being own-roots is healthier, or is it keeping a dry & alkaline surface?
My present house is alkaline limestone clay, pH 7.7, 40" of rain, hot 80-100 degrees, zone 5a winter (23" snow). Most 52+ roses are very healthy as OWN-ROOTS:
BLOOM WELL: All Romanticas & Meilland roses & most Austins & OGRs and floribundas as own-roots.
STINGY: Jacques Cartier, Austin Eglantyne, Charles Darwin, Nahema, Lauren. Mini-roses don't survive zone 5a winter.
DISEASE: Bridal Pink own-root (surfaced with alfalfa meal at pH 5.7), and Heirloom Hybrid Tea grafted on Dr. Huey black spotted in a bed mulched with wet acidic leaves.
I'm doing a research to see if own-roots are healthier than grafted on Dr. Huey. Any info. is greatly appreciated. THANK YOU.
Below is my favorite Romantica, Sweet Promise 2007, it can handle poor-drainage clay where grafted Knock-out on Dr. Huey could not.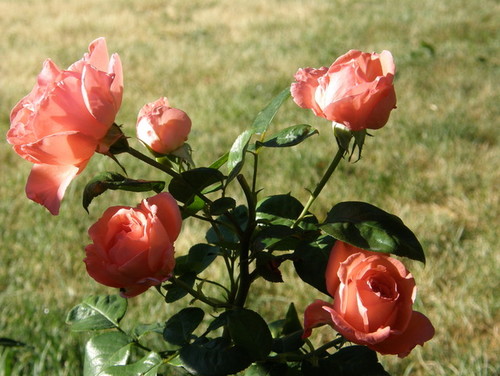 This post was edited by Strawberryhill on Sat, May 25, 13 at 12:38