Elisabeth's China
bellegallica_zone9
(9)
May 2, 2014
Jerijen has written several times about this found rose, Elisabeth's China. At that time it was not in commerce, but Rose Petals Nursery now lists it in their catalog in both the Chinas and Found Roses sections. Unfortunately, it's not yet in stock.
If you've been interested in this one, add it to your wishlist at the website. (Hoping the more people who want it, the more likely they will propagate it and offer it for sale soon!)
Also, hopefully Jerijen won't mind me reposting pictures and information about it that she has posted elsewhere. The following pictures and text are by Jerijen:
(Shameless enabling...)
"Elisabeth's China" was planted on the grave of Elisabeth Stober, native of Germany, who died in Sacramento, CA at age 87, in 1881. There is evidence that the plant is quite old, and that it has been cut to the ground multiple times, and grown back.
It looks like this was planted for Elisabeth not long after she died (tho we can never know for sure). I like to think it was a rose from Elisabeth's own garden. It's very fragrant!
Frankly, the one I like best of all of them is "Elisabeth's China," -- one of the "Legacy" roses in the Sacramento City Cemetery. Elisabeth Stober's rose blooms all the time, and propagates like mad. Like most of the other red Chinas, she can be a very dark blood red, or (in hot weather) gentle her color down to shade of pink.
(Photo by Jerijen)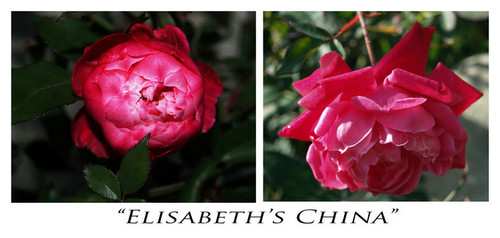 Here is a link that might be useful: Elisabeth's China at Rose Petals
This post was edited by bellegallica_zone9 on Sat, May 3, 14 at 10:30