Just got adenium
greendale
(6B)
October 12, 2013
Hi, enablers and adenholics:)
Have been reading this forum for some time now and thinking about get an adenium this coming spring. But I went to lowes this morning to get...what was I suppose to get?...anyway, there they are, on the clearance rack, although I am not sure how I am going to overwinter it, but for $5, I think I would give it a try. And pig I am. I got both of them from the clearance rack. And thanks for Laura's (hi, Laura) wonderful post about bare root and repot. Now they are in their new gritty mix home.
And now the questions:
One of the adenium is leafless, but the caudex is firm, is it in dormant? Do they lost all the leaves when they go dormant?
When I repot, I lift the caudex and expose some root, should I not doing that since they are going into dormant period ?
I do not have grow light, should I put them in total darkness after they go dormant and wait for spring? Or should I give them the premium estate( e.g. South window)?
Thanks a lot, now I am one of the gang.
Greendale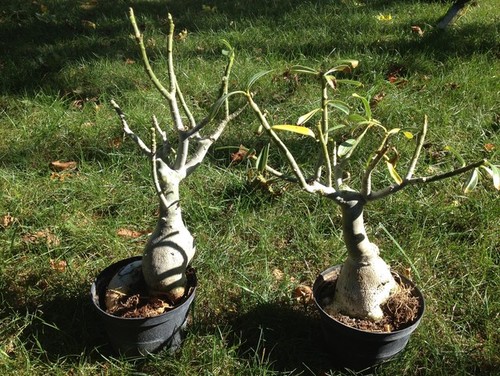 This post was edited by greendale on Sat, Oct 12, 13 at 19:29