Well... It Just Happened...tonight!,, ;-)
Loveplants2 8b Virginia Beach, Virginia
November 15, 2013
Hi..
The lady tree with the cute little back side decided to open the pods in my house today... It was good thing I was working with all of my pots and rearranging them...
I didn't see it.. Lol.
I know some have expressed interest in the seeds... I will take ten people who will email me about these seeds and then I will stop with this batch. They are watermelon - pink bloom and I think they are beautiful.
Ok...so, the first ten people who email me, I'll send these seeds to you. You can sow them now or wait. I would probably sow them now and use a heat mat for seedlings..
Good luck! this is the mother tree in bloom. The next pic is of the seed pod exploding on the tree!! HA!
It is a good thing I walked into the room before they were everywhere.. The " eye drops " Would have been needed... Lol ;-)
Have fun.
Laura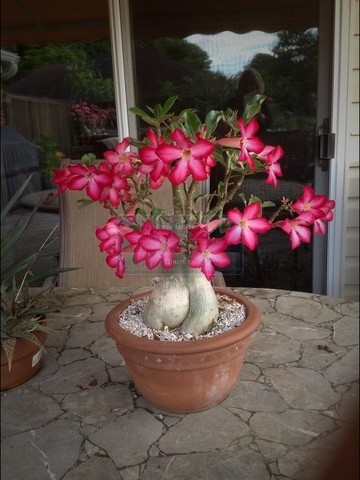 This post was edited by loveplants2 on Fri, Nov 15, 13 at 11:39