Hello!
Helmine
(8A)
March 21, 2013
I've been reading the messages with some interest. I'm getting back into violets to a mild degree. I've never shown, but I used to live down the street from Volkmann African Violet Nursery which existed for many years in Dallas, TX . I had hundreds of plants at one point, wandered through their greenhouses often.
I wrestled them for many years through moving, family deaths, different multiple cats and all kinds of things for years before I gave most away and killed the rest.
Here's a photo of my current setup. I have two unlabelled Optimara semi minis and a couple of other plants on a very narrow windowsill. I repotted them into plastic cups from the tiny pots they were in, and wicked them into smuckers jars. They were a little beat up when I got them, but have perked up a little. The window gets only indirect lighting throughout the day, and I'm supplementing with a 100 watt equivalent flourescent bulb in a clip on lamp.
At the end of the row by the plant food bottle you can see two tiny minis (one is a mini trailer) from Violet Barn ordered after not being able to find any violets in my extended neighborhood. They just came today. I have a couple leaves coming in through ebay.
Through your posts I've discovered there's a show this very weekend at a favorite local nursery. I hope I don't go bananas!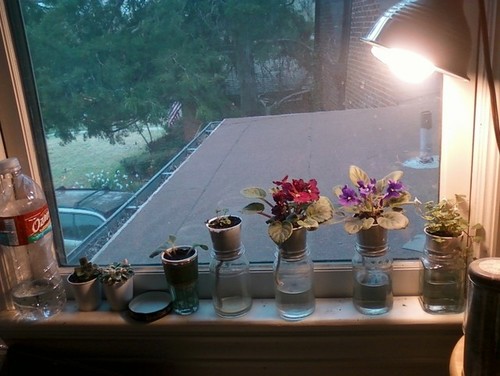 This post was edited by Helmine on Thu, Mar 21, 13 at 16:28