Flower question.
kinder_devonshire
(4b ID)
November 30, 2010
Hello everyone. Several months ago I posted a question and photos of a sport of Kentucky Strawberries (http://forums.gardenweb.com/forums/load/afrviolet/msg0723543814761.html). It has been several months, and my first baby from the leaf I set down is up, and it is showing the same leaf color as the sport. Fingers crossed. They have gone through a second bloom cycle, and are holding stable. I was wondering though, if my second violet is stable, what does everyone think of it? The flower color is not uniform, nor is the leaf color, showing birthmarking on the undersides. The leaf I set on this one had a baby, and the leafs are looking true for this strange little violet.
This is how it looks now...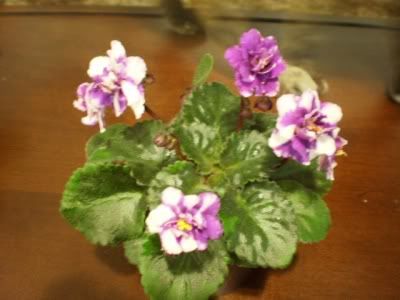 And here is a family photo...