New goldfish owner...
Hi all,
I need to narrate the whole history before I state my problem....so please bear with me and help me!
On 06/28/2013 i got a gold fish at the carnival. I had no clue how to raise it but did I want to give up. Initially I filled a small bowl with tap water half way and added little water in which it came in. I used to replace 1/3rd with tap water everyday. Fish seemed ok and happy. It used to eat up all the food...used to feed twice a day.
On 07/04 my friend gave me their old fish tank (maybe 3 gallons). I followed the same procedure of combining tap water and old water. The fish seemed fine again. Couple of days after I bought another fish. For the first day, the new fish was very active and the old one always moved away from the new one. The next day they seemed fine and guess they became friends.
Yesterday when I wanted to clean the tank so I poured out all the water and after cleaning I filled it with tap water. I think I lost all the good bacteria :( I rushed to Walmart late night and bought some starter pack with Zyme, conditioner & dechlorinator and correct ph tablets. I added half tablet of each since in the instructions it said 1 tab per 5 gallons.
Today the water is already dull grey color. I am scared it would harm the fish. The fishes are not as active as they used to be. I am sure I messed up somewhere and want to correct it before I harm them.
Also, how often should I change the water?
How do I make sure both the fishes eat the food. I think only the old one is eating and the new one isn't...but am not sure.
Please advise.
Thanks!
P.S: The old fish is more active than the new one. It was the other way round earlier. Is it possible that the old one got used to the new environment faster than the other?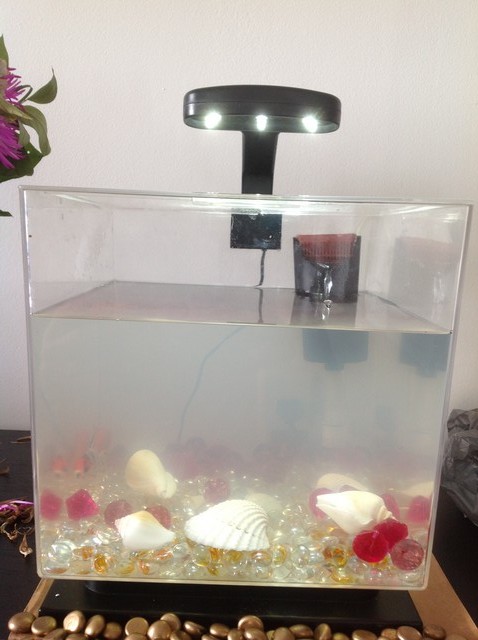 This post was edited by Nupu on Wed, Jul 10, 13 at 15:38