Roses and plants that you enjoy ...
strawchicago 5a IL
August 6, 2012
Here in zone 5a Chicagoland with alkaline clay soil, 40" rain, humid summer, and cool/wet spring and fall, these are the plants and roses that I enjoy:
1) Perennials like red bee-balm (humming bird magnets) and tall summer phlox, mixed with Flower Carpet Roses, Knock-outs and Kim Rupert' Lynnie in a no-water zone. Below is my kid playing in front of them: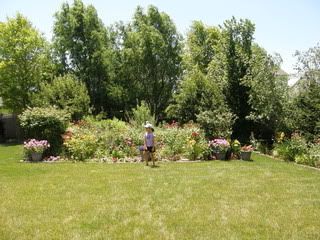 2) Paul Neyron gave me hell first, like balling in hot sun, broke out in BS with acidic water. I finally figured out the best soil to keep him clean. The below pic. is taken 2 months ago, he's much bigger now. I enjoy Paul Neyron for his pretty leaves, 100% thornless, and good cut flowers. Disclaimer: I don't spray, and these disease-fests are clean here but MAY NOT BE ELSEWHERE. My soil is high in limestones, my water is high in lime, and I use horse manure, high in potassium to keep roses healthy.
3) At first I didn't like Scepter'd Isle faded blooms, but once I realize that its blooms look good in a vase with mauve roses, I enjoy its 100% health and constant-blooming: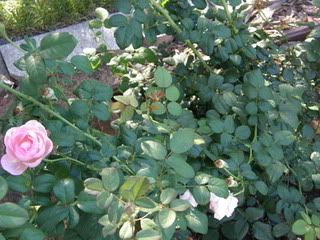 4) Snapdragons bordering 7 Austins in partial shade. The color variations in snapdragons is amazing, they re-seed themselves, thus act as perennials. Kim Rupert told me that they get rusty in his hot and dry climate. They are best in cool and wet weather.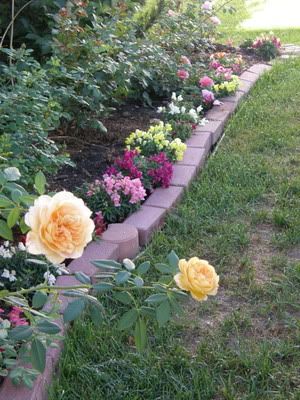 5) Purple Alyssum - they act like purple carpet for roses. They smell wonderful and like alkaline clay. Their scent blends well with Marie Pavie.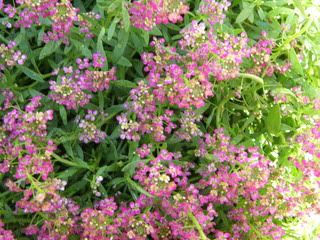 6) Double-Blue Rose of Sharon, or Shrub Althea. This gets big 8' x 5'. It blooms non-stop for 5 months from June to October. This double-blue version is rare, sold at Spring Hill nursery for $40 per plant. My Mom rooted for me from her Michigan garden.
I'll post the roses that I truly enjoy later. What are the plants and roses that you learn to like, or truly enjoy?