Pinkie, Climbing...what a pleasure!
sherryocala
October 23, 2011
Well, I finally bit the bullet and got her vertical last weekend. I was amazed by the flexibility of her canes. After I pulled her up and close to the trellis I had to detangle her and pull canes through and out of the mass. Usually at this point some will bend/crimp and break (I'm not always as gentle as I should be - no wait, I think I'm being gentle right up until they snap.) Pinkie's canes would flex double on themselves and not crimp. I think I only snapped one which was brand new growth and only lost 3 or 4 inches of the tip. Also, my method was often to pull a cane out of the mass and let it run through my hand - sans gloves!!! No prickles!! I found (ouch) only a very few tiny ones. I was pleasantly surprised by the ease with which this job was accomplished.
Here she is out of control nine days ago on the 14th. One cane had grown THROUGH the light fixture. Chop, chop.
And today after her makeover on the 15th.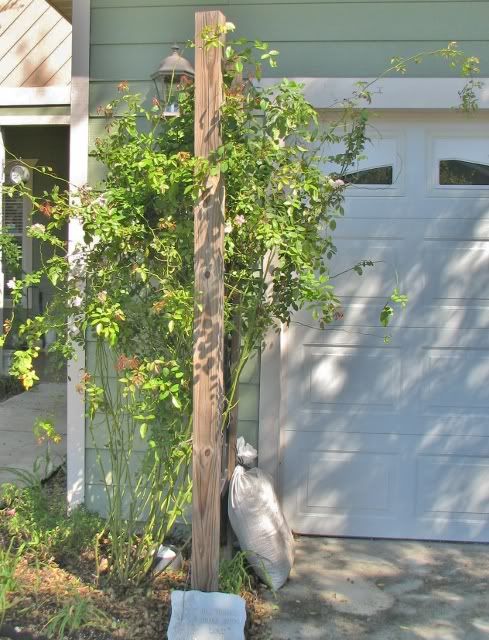 I think she's headed for the light fixture again! The plan is to raise the height of the foliage higher so it can plume over the heads of passersby rather than slap them in the face.
Sherry
Here is a link that might be useful: If only sweat were irrigation...