Young New Homeowner with lots of Questions!
Hi Everyone,
I have been doing some research and it seems like this is one of the top gardening/horticulture sites on the web. Being from the great state of Alabama I know many friends who went to Auburn (we can't all be perfect :)) who have told me some information about my back yard but I NEED MAJOR HELP.
My Story in a nutshell:
I graduated Engineering from UA and moved back to the coast, where my heart is, to pursue a career. I got married and bought a house (no kids but two big dogs) and this is what I have inherited.
The previous home owner took great pride in his gardening but for the last 12 years of his life he left the yard to grow wild having higher priorities. I found about 2-300 pictures of the yard in its former glory, and man, it looked good. I am set on restoring this to its former beauty and then some!
So far from this last blooming period, I saw 3, maybe 4 different types of azaleas. I know I have Camellias, Gardenias, Azaleas, some odd type of exotic looking flower and a Fig Tree, that I know of. The problem is, these plants look more like a tree than a bush (minus the exotic). So, here is where I am going to start (And if you are still reading thank you!):
Question 1) I have no idea what this flower in the attached picture is, anybody?
Question 2) When can I trim these plants mentioned above out? Azalea & Camelia mainly, the gardenia plants were actually "rescued" by me, they were about dead when I moved in.
And yes, that is an azalea behind these mystery plants.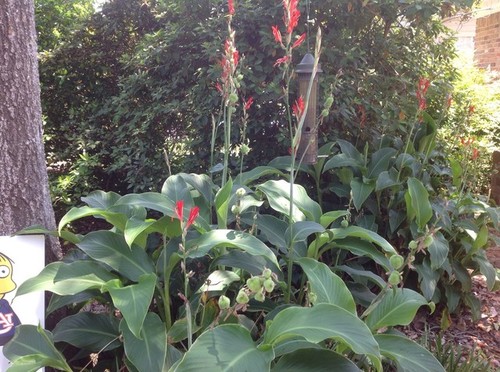 This post was edited by thasser on Mon, May 20, 13 at 10:41