My Trades For Fall 2013 Plant Swap
ourhighlandhome
September 29, 2013
This is what I'm bringing my traders. If I've forgotten anyone/anything please let me know:
Alice: Brazilian "Bachelor Button" plants, ipomoea 'Indica' (perennial morning glory) rooted runners, musa 'Velutino' plants & fruit (seeds)
Kenneth: (see above)
Leila: hardy bananas, elephant ears & hedychiums (gingers)
Linda: amarcrinum 'Fred Howard' bulb, crinum 'Ellen Bosanquet' bulbs, indigo amblyantha, manfreda virginica 'Spot'
Lori: passifloras 'Incense' & 'Blue Bouquet', rosa rugosa 'Moje Hammarberg' (sp.?), gloriosa (climbing lily), lots of other stuff for you & Russell
Russell: byzantine gladiolus, azalea 'Formosa Lavender'
Susan: x amarcrinum 'Fred Howard', clerodendrum incisum 'Musical Notes', x hippeastrelia, Louisiana iris 'Sydney Harbor' or 'Swirling Waters', monarda 'Grand Parade' (if I can locate it again..I've promised this to you for two years now!)
Tony: agave 'Montana', clerodendrum incisum 'Musical Notes', alo/colocasias 'Pineapple Princess', 'Violet Stem', 'Noble Gigante', 'Molten Lava', 'Yucatan Princess', unknown variegated xanthosoma
Wayne: hedychium 'Tara', musa 'mannii' and 'Velutino', hakonechloa 'aureola'
Thirty hot dogs, smoked sausage and charcoal
I will bring extra plants if I can, but am already limited due to space. I will bring something for a "prize drawing" later in the day, so everyone remember to keep the tickets you're issued when you enter the park, and write your name on the reverse side of them. Tony and/or Deb started this years ago, and it was fun.
Maybe everybody can bring something extra and we can have several drawings - something for the "little child" in all of us ;-D
Nelson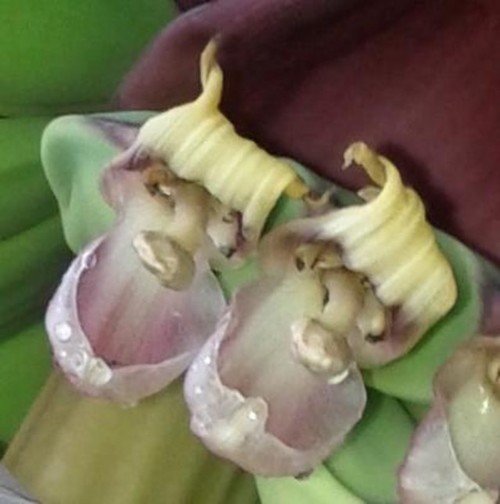 This post was edited by nelson on Tue, Oct 1, 13 at 21:48