My new hypertufa troughs
leftwood
(z4a MN)
November 4, 2005
Early this fall, I mixed three batches of hypertufa and made troughs. All but the smallest one were made with plywood forms, each with both an outside and an inside frame. (The draditional method.) The small one was produced using the inside of a small plastic dishwashing tub (one that fits in a sink).
All three mixes were the same but with varying amounts of black concrete coloring. Even in the photo, you can pick out the three shades of gray. I used liquid coloring, mixing it in at the end so the color was not uniform throughout. The results are very pleasing, but surprisingly uniform anyway. Yet the subtle color difference is there and I'm sure contributes to the overall effect. Also surprising is the amount of coloring needed. I wish I had used more. Note to self: Even with the black coloring, remember the final hue will be MUCH lighter.
I still have to do the final torching to burn off the exposed reinforcing fibers, but hey, you can't see that anyway.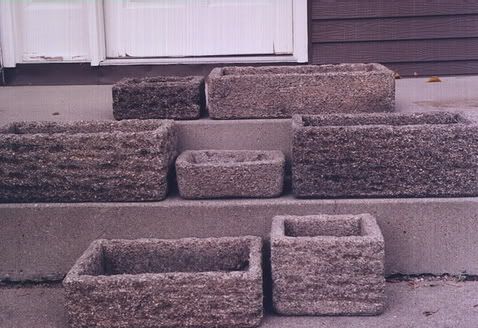 I may have gotten a bit carried away with the carving, some being too deep. I'm a little afraid that I have sacrificed too much of the strength integrity. Especially on the taller troughs, I plan to insert a couple thin sheets of styrofoam vertically in the soil that I hope will alleviate some of the freeze expansion pressure. I guess only time will tell. Comments and critiques are most appreciated.
Rick