Pak choi already flowering - will I be able to eat it?
This past Wednesday I bought a six pack of pak choi at the nursery and planted it in a pot. The plants were about 3" tall when I planted them. Since then they've shot up -- three of them are almost 12" tall -- and one is starting to flower. There are some larger leaves at the bottoms that were there when I bought them and smallish leaves growing at the top, but the plant is mostly stalk.
I was hoping these would continue to grow through the summer, and I'm wondering if the fact that they're getting so tall so quickly (yet are not very leafy) and that they're already flowering means that they'll bolt too quickly to eat? Last year I tried growing cilantro and basil and it went to seed after only a few weeks, which was really frustrating. I don't want the same thing to happen with the pak choi if there's something I can do to prevent it.
I'm not sure about the variety... the tag says "toy choi" if that helps. The temperatures have been in the mid-60s to low-70s and the plants get about 5 hours of sunlight a day.
Before and after pics can be seen below...
(that's Swiss chard in the middle)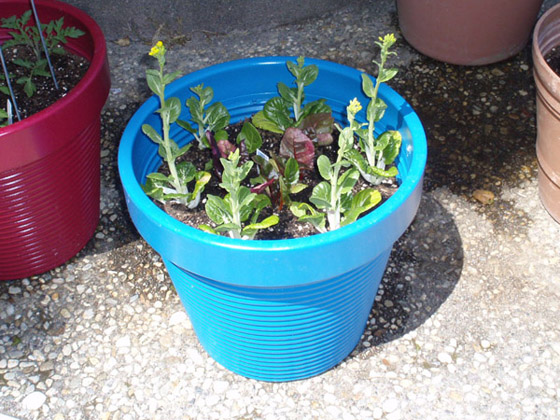 Thanks.