High Desert fruit
devilpup
(8a)
March 15, 2012
I'm posting this because I was worried for a while about some fruit trees I planted last fall, so when I saw some activity I got pretty excited.
First, my wife wanted a lemon tree but we couldn't find anyone around here who had one growing. Supposedly it gets too cold here for them to be comfortable, but we eventually found a Meyer lemon tree at the local Lowes. We picked it up and put it in a junk pot out on our front porch. I kept forgetting to water it and it got pretty cold, down into the 20s at night, so I didn't think it was going to make it. About 2-3 weeks ago I put it in the back yard next to my storage barn where I'm building a garden and this time I remembered to water it. When I moved it back there, the wind had blown all the leaves off and it looked like a scraggly stick. Turns out it was a pretty hardy little tree, now it's starting to come to life and looks like so: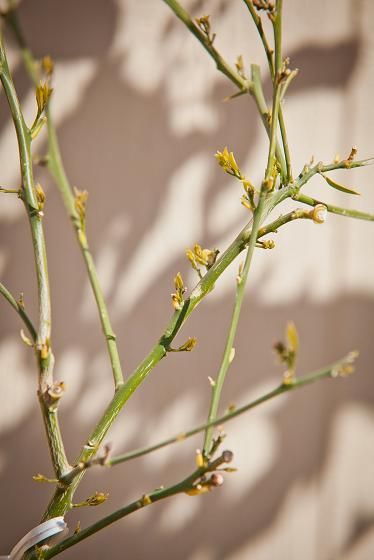 I also put a pair of pomegranate bushes in the ground in November. It got pretty cold shortly after I put them in and I thought they weren't going to make it either. My dog also tried to dig them up once I planted them, exposing the roots a couple of times. Once again I underestimated the plants, and given a weekly-ish watering they are starting to not look as much like tumbleweed anymore:
I planted a couple of Fuji apple trees in October and I think with these I did just about everything wrong. Just dug a small hole and dropped them in, no soil enhancements or anything. Watered them maybe once or twice every other week and my dog tried to dig them up a couple of times. Low and behold, I think they might just make it too: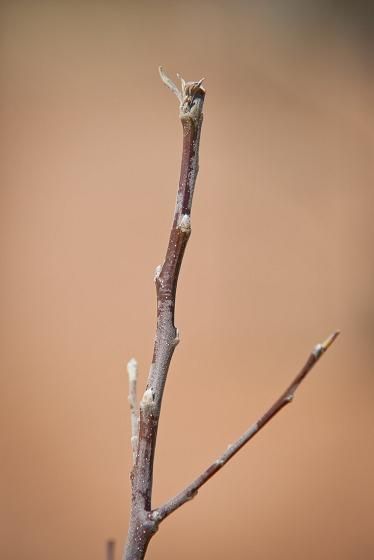 So out of all the fruits I had going on, the only thing I'm still pretty concerned about is my fig tree that dried up to the point where it just snapped off at the stump. I'm going to give that a little bit longer before I decide what to do with it. Overall this is my first time trying to grow anything other than a cacti, so I'm pretty excited to see the plants coming back to life despite some mistreatment.
And just for reference, we're in the high desert in the south so we get probably 50% of our ~10 inches of annual rainfall in July and August, the rest of the time it's pretty dry outside. Eventually I'm going to have to figure out a better irrigation system because right now I just have a 5 gallon bucket by each of the in-ground trees and I fill that up with a hose once a week. Seems to be doing it's job though :D