Where to go from here? Banana noob. (Palm Beach Gardens, FL)
Apologies for the less than specific message subject, but I've included a few questions in this post, so couldn't quite decide on a better subject to use...
We recently moved to a new home in South East Florida, and at last have a yard as well as fruit trees and plants that are already established. I was pleasantly surprised to find that we have a some banana plants growing. I asked the previous owner about the plants and he said they had delicious bananas from last year's harvest. Coming from the hills of Upstate New York, I had no prior experience with bananas, so have been studying and soaking up what I can here on gardenweb as well as the greater web.
What we've currently got are two rather large banana plants (appx 6.5 ft - 7 ft) growing side by side. Assuming that these were two pups of last year's momma, and both were allowed to grow. One of the bananas is slightly taller as well as wider around and has a flag leaf (I have attached the photo).
Around the base of the large plant (7ft) there are two appx 1 ft tall sword suckers. Around the base of the slightly smaller plant (6.5ft) ft tall there are a few 2 - 3" long sword suckers coming up.
Starting at approximately 2 ft from these two tall plants are what appears to be a trail of water suckers (5 or so) that extend as far away as 6 - 7ft from the two large plants I've been describing. Not sure if they're all water suckers or if someone transplanted some of the swords from last year, but they range in height from 1 - 4ft.
My first question is, do I remove the 6.5ft banana plant that stands directly beside the larger 7ft with flag leaf, so that the large banana produces better, or would it be better to at this point, leave the two largest bananas alone and let things just happen. My first thought is to simply leave these two large ones alone, so that I don't to do any damage to the banana with flagleaf.
As the pups surrounding the base of these two large bananas grow, should I only allow one to stay in this area and transplant the other pups further way, leaving 6 ft or so between each transplanted banana plant?
How should I handle this trail of water pups that are extending away from the two primary bananas? Should I transplant all of them or transplant just some of them and allow a few of the tallest to grow?
Thanks in advance for any and all comments/advice you're able to provide.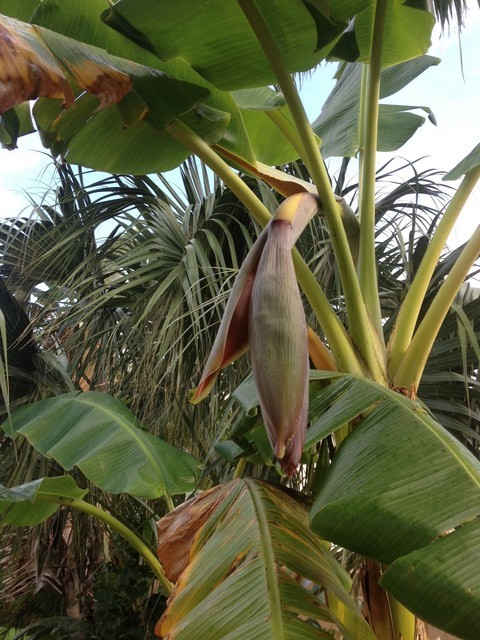 This post was edited by dkian on Wed, Jan 8, 14 at 9:21