Hi. Just touching base
mymanga
(z5 NY)
March 5, 2010
Hi everyone.
Just want to touch base.
10 of my last year bulbs (Fall 2008) are blooming now. My Jungle bells bloomed and I was surprised as the bulbs are not too big.
One thing I found are that Amaryllis are tough bulbs.
To save electricity bill this year and not heat the balcony, I took every pots indoor and placed them on my living room floor at 70 degree with all their leaves cut off . (Except Papilio of course which I left alone and water as usual)
I don't water them until I see a bulb spike. So far not bad.
For this season, Fall 2009 other than my ususal, I am trying out Splash, Sweet Lillian, Trentinto,Fanfare, Bellisimo and Charisma.
Only problem I have this year is with Bellisimo; it did not bloom at all and is just sleeping.
Actually I still have 10+ other bulbs on my fridge like Elvas,Splash, Sweet Lillian and etc. I still have 4 Sweet Lillian I think.
Personally, I don't think I like Sweet Lillian too much , since it is not a double. I think I will stick to my double flowers from now on.
I am going to try going Begonia this year during non Amaryllis month.
Anyone try begonia? how do you like it? Are they easy to grow?
I got 4 Begonia tubers from Home depot and then I saw White flower farms are selling some B&L tuber for $59. Have anyone try that? Are they worth that much money ?? I am going to stick with my Home Depot tubers for now.
Hope they will do fine. I read that it take 4 months from planting the tuber before they start blooming. Any thoughts ?
Thanks
Michele
Trentino :
Charisma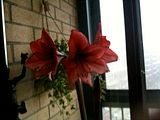 Jungle Bell