More Exotic Star, this time from Mn
Everyone has such lovely Exotic Stars. I'd like to show my feminine northern version.
This ES seems to be a little lighter than some of yours. I was lucky to have 7 scapes from this pot. (3 on mother and 2 offsets with 2 each)
Interestingly, one scape had 4 flowers and one had 3. I wonder what affects this.(ES usually seems to have 2) Last pic shows "my guy", he doesn't ID, clean or do much else beyond lovin' and inspectin' my outdoor garden during our summer. (What's that again?) Here he does a good play at "accountant". As you see he's not workin' hard at it!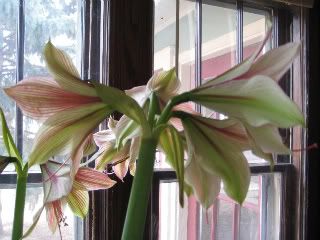 Thanks for lookin',
Sally