Best Bamboo for this application
My neighbor plans to cut down all the trees between our property. Originally, I had Black Bamboo planted here but it was receiving too much shade. The black bamboo is now growing healthy in the sun on the other side of my property.
So now I'm going to have a new opportunity for planting. This area should receive mid morning to afternoon sun in Pittsburgh (Zone 6). This area will be somewhat protected from cold winter wind as my shade is blocking the wind flowing between the void area of the two houses.
Now, here is the issue. The available space is around 4.5 foot wide and 25+ long. I will have to use a rhisome barrier rather than a trench. due to the close proximity of the grove to my neighbors fence.
What bamboo would be appropriate for this conditions? I want to screen out my neighbor's yard as much as possible and my vertical form can be unlimited.
Is this enough room for timber bamboo? Will timber bamboo though not fulfill my screening requirement? Or should I just split my black bamboo and planted it in two locations. I kind of want to try something new but free plants sound pretty good.
Thanks for your help.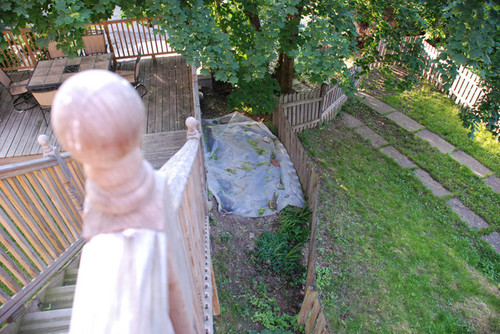 This post was edited by amishbob on Mon, Apr 15, 13 at 12:19