Texas Honey Mesquite? In Michigan?
I wish I'd weighed in here a few years ago. This little guy has enormous sentimental value to me and I'm afraid I've not been the best steward given his change of latitude.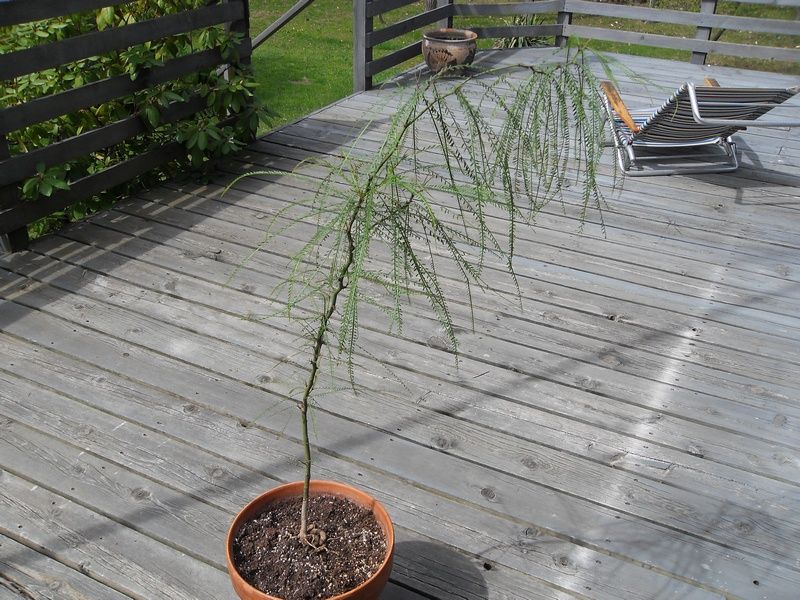 Took my mom on a vacation to San Antonio five years ago and this interesting small tree with (if I recall correctly) beautiful tassels on it was outside of the hotel window. We took a seed pod home and planted it in a small pot. Nothing happened for a very long time (months) and it was decided to be lost.
Mom was diagnosed with ovarian cancer following year. Two days into her in-patient post-op recovery the little guy surfaced in the pot. Kind of miraculous. I was so preoccupied with her care and hospital details that I neglected it until one evening I returned from the hospital to find the little sprout flat on its side and yellowing. I swear I almost wept. I stood it up with two toothpicks and sewing thread and put it in a south facing window (winter time). As mom recovered, so did the mesquite. She took to calling him/her Velvet believing it to be a Velvet Mesquite.
Mom had four very valuable and active years until her passing last December. It seems more important than ever to help him survive.
I have a few concerns.
It is now over four years old. Trunk/stem is 7/16" at its widest. It is 3' tall. Is it stunted?
Is it a Honey Mesquite? It has wicked sharp thorns.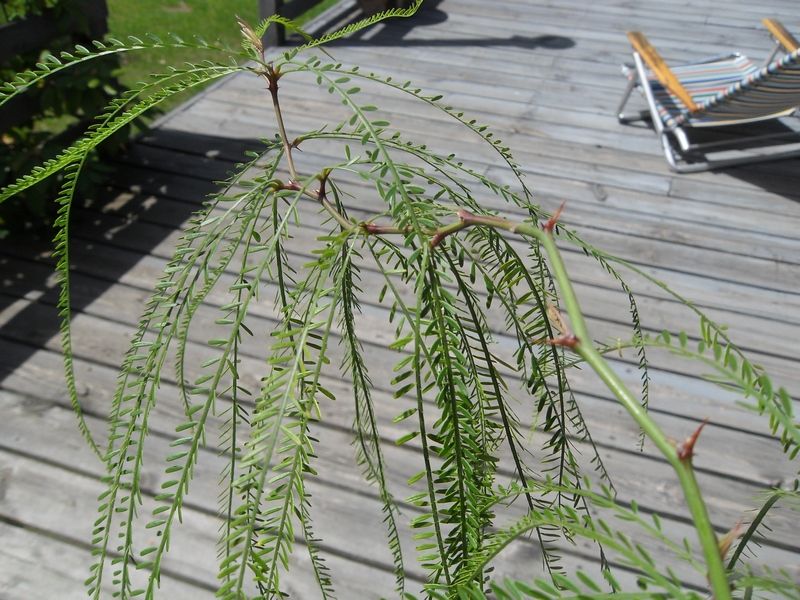 It had been transplanted from house pot to garden seasonally its first two years. I'm not at all sure it has been watered optimally (too much or too little). Late in its second year it was a nice symmetrical 'Y' shape until a deer removed one entire branch.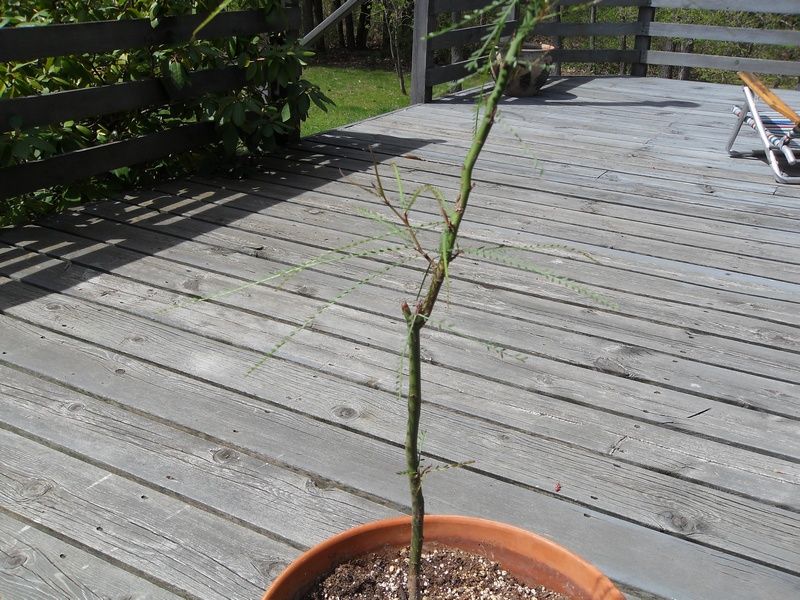 Seems like it may never straighten out and lists badly to the other side now. I've since been fearful of any pruning at all and it seems to be growing too tall for its thin trunk.
Any advice on pruning for optimal shape and health?
Can I maintain mesquite as a house plant? Might it respond OK to replanting in a much larger pot/planter and then pruned back as an indoor "ornamental"?
Or should I plant it outside and leave it planted? If I protect it (under a large insulated plastic waste bin for instance) from the worst of winter will it survive until it outgrows such protection and then survive Michigan winters on its own?
Lastly, and thanks so much for reading this far if you have, I've grown concerned about the root exposure and shape.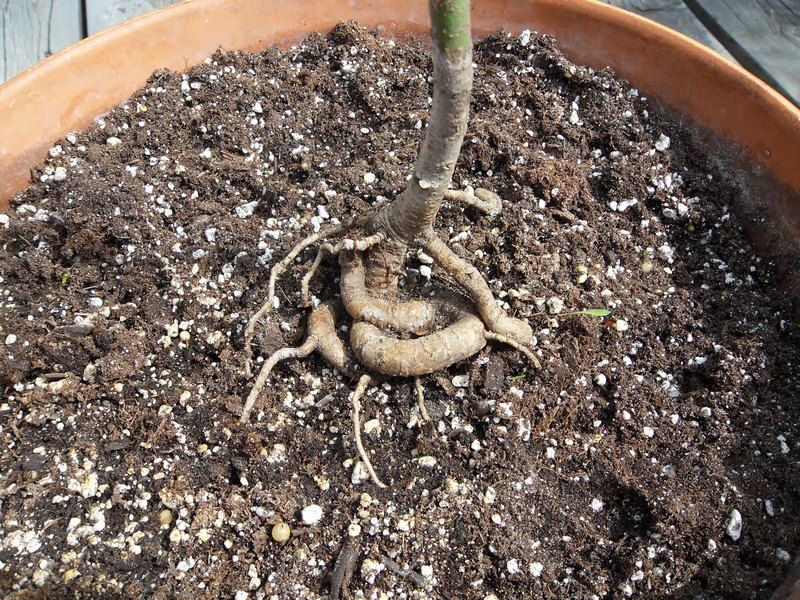 I've read that such exposure at the base of a tree should not be buried beneath new soil. The bark has developed extra (visible and lighter) layers of protection at this exposure and burying these parts in soil can cause those layers to rot. True?
A professional gardener friend, while unable to help me much with this non-native told me that these tangled and bunched surface roots pose a problem and could eventually entwine so tightly that the tree may die. He advised me to very carefully unearth the tree and prune away some of the worst root entanglement. Then replant in a larger and deeper container. A frightening proposition.
There is a flowering maple in my office that "suffers" the same problem, if indeed it is a problem.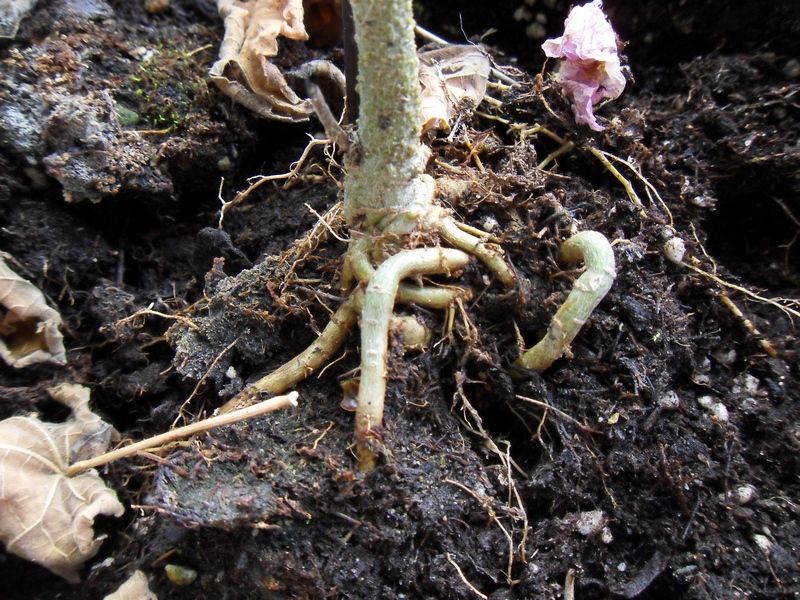 Thanks so much for any help here. Perhaps I should have split this up into two posts?