Bamboo to ixnay McMansions
Can bamboo grow 15 feet high or more in a pot that is no more than 14 inches wide, but can be very tall and long? I am trying to block a McMansion next door. There is no dirt on this side of the house, only a city-mandated storm drain.
Here is a picture of a bamboo growing on the other side of the house to hide another McMansion. I like this bamboo which I was told is a not a "runner." Do you know it's name, and would it do well in the pot?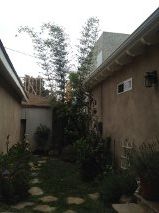 Thank you!