What's Wrong With My Bamboo?
PacNWbalconyGrower
August 23, 2013
Hey all, I'm a brand new member and this is my first post actually. I have come to you for help with my plants. For this post, it's my bamboo; in the Japanese Garden board I'm going to post a thread about my Japanese maple.
So I live in downtown Portland Oregon and reside on the side of a hill where my balcony faces east. My balcony gets unobstructed sunlight from sunrise until about 1-2PM, then the sun passes over the hill and it's only indirect light until night.
I'm unsure of the exact species of my bamboo, but I believe it's of the clumping variety, although it's never been out of the pot so I'm not positive. It should be 3-5 years old. I bought it from a private grower 3 years ago when there were only five or six stalks, little dinky things. It's grown a lot since I've had it and repotted once. When I repotted I just took the whole root ball, centered it in the current pot with new soil and done. That was probably last year, maybe a year and a half ago. Anyways, I've always had it looking beautiful bright bamboo green and super healthy. For maybe six months now it's looked kinda yucky. Yellowing and dead leaves amongst healthy ones.
What should I do to get it back to looking beautiful? It does seem a little crowded in the pot. Should I repot into a larger container, should I cut the root ball in half and put in two containers? Or is the problem not crowding? Also, I expected it to be taller with thicker stalks by now...anyway to promote that kind of growth?
Thanks for the help and advice. Pictures coming in a minute once I get to my PC.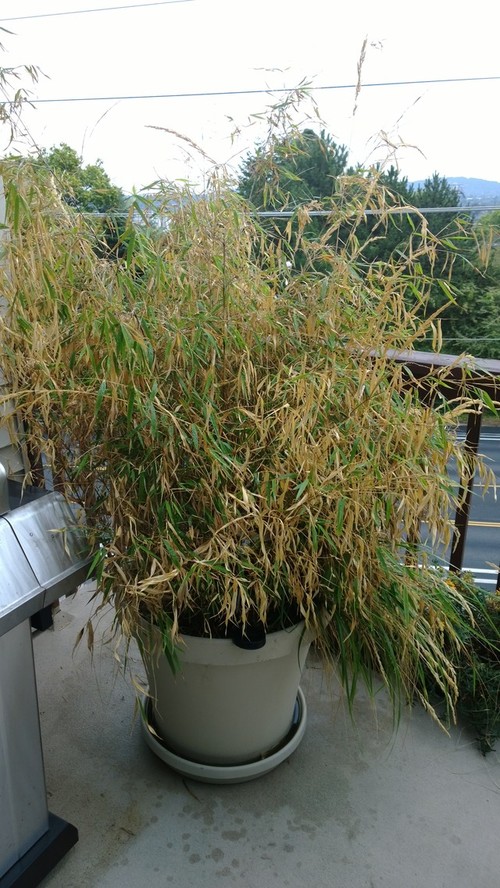 This post was edited by PacNWbalconyGrower on Fri, Aug 23, 13 at 21:07