ID and Advice for Winter
ejr2005
(Eastern MA)
September 30, 2008
I bought my first banana plant this year and am now wondering what to do with it this winter. I've read lots here but am still not sure.
I guess for starters I should try to figure out what kind it is. Here are a couple of pictures: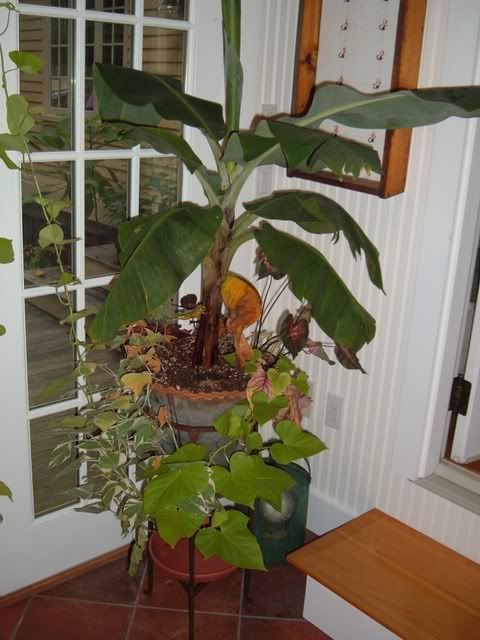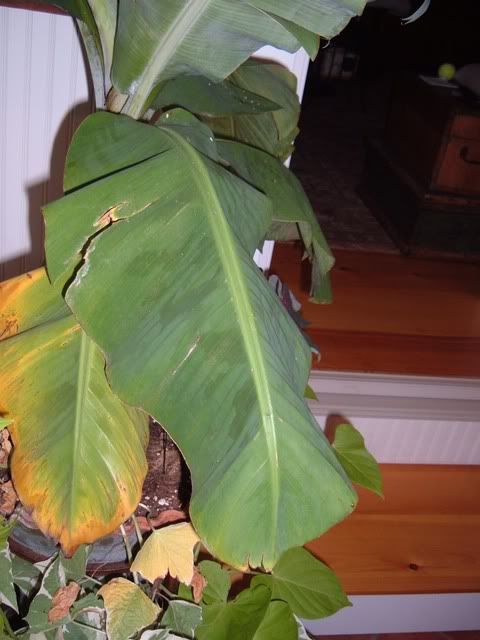 It's in the sunroom now. Not sure if I should leave it there and try to fend off the spider mites all winter. Also if I do that if I should fertilize it regularly. I think you are supposed to cut down on the water.
Or should I let it go dormant. I'm in eastern Massachusetts. Our basement is too warm and unheated garage probably too cold at times. We do have a crawl space under the sunroom but I'll have to start checking the temps. I brought the plant in a couple of weeks ago when the night time temp got into the 30's. I wondering whether it should go outside again til it gets colder to start it going into dormancy. If so, how long should I keep it outside? As you can see in the picture it's getting a new leaf now.
I'm pretty new to gardening. I have kept a couple of Brugmansia's alive (barely) for two seasons in the sunroom, but eventually had to cut them down to get rid of the aphid infestations. Although I'd love to turn our sunroom into a tropical garden room this winter, I don't know if I have it in me to fight aphids and spider mites! I also have a "corn" plant (don't know the real name yet) and Jasmine to deal with: