Dancing Queen in flower
rredbbeard
(SE CT USA/zone 6)
June 2, 2011
I wish this plant was not a mule--such lovely flowers! Last year was the first year for me, and the flowers were not up to par, and I saw one at the Philadelphia Flower show, also not the greatest, so I was a little concerned.
After a summer outdoors, the bulb is big and healthy, rewarding me with 2 large flower spikes.
You should see my kitchen! I have over a dozen bulbs, some named, some not, in some stage of flowering. I put one of them outdoors in full sun to see how the spike would develop, and it is healthy and strong so far. In the bright sunlight the flower spike doesn't seem to lean toward the sun as much as the ones growing indoors. As soon as the flowers on the others are all done, out they go in their pots to get as much sun as possible. It's remarkable what a difference a summer outdoors makes with these plants. The old 'indoors' leaves burn off in bright sun, but are quickly replaced by more solid leaves that are very firm. Try it!
I have one very large bulb which someone on GW told me is probably 'Red Peacock', and I am not dividing off the babies, to see what the clumping plant does. Because they're all attached and in a 14" pot, even the small offsets are putting out flowers, and there are 4 spikes going right now, approx 3' tall. Would you believe that I have a tomato cage stuck in this urn to support the whole thing?
Here's the pic of DQ: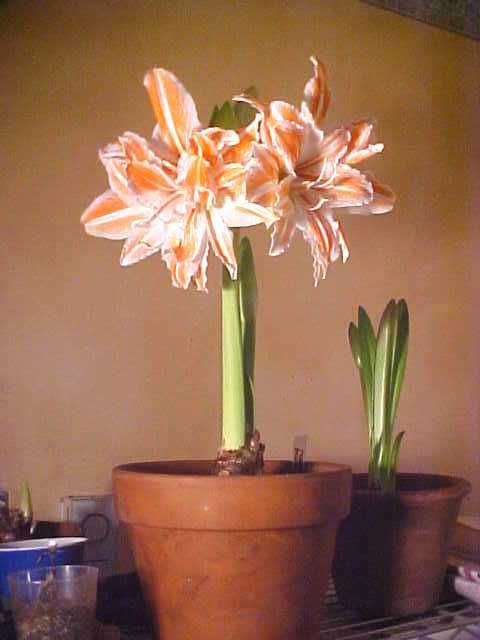 Happy Gardening!
--Rr