Selective Vriesea die-back
paul_t23
(Coastal Sydney)
January 28, 2009
Hi everyone, finally got my act into gear to join you. Thanks for all the great reading and pics over the last 6 months since I found you!
I hope you can help me. I have had this problem with just two plants so far but they are (were) ones I was really happy with, and it seems to be staying around, so I want to do something about it if I can. It seems to follow a very consistent pattern - hopefully these pictures will explain.
Vr. Snows of Mauna Kea with leaves dying back, shown here up to 4th leaf dying, affects only leaves half-way up plant - leaves above & below all OK
Same plant 1 month later - leaves previously going brown now drying out, and a couple more leaves just starting to go off: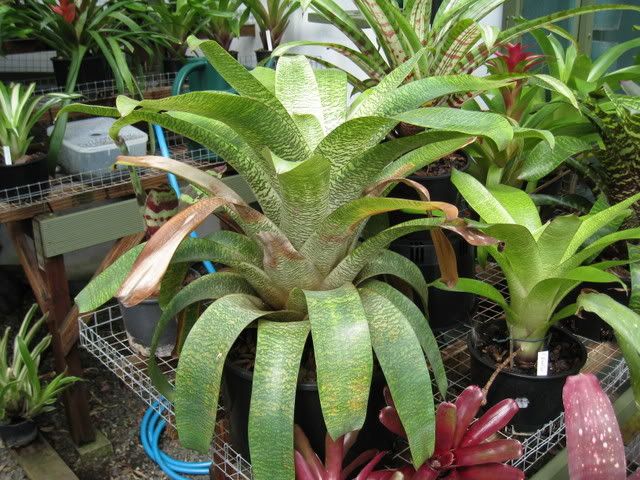 Top half of plant still healthy and growing very well:
Close-up of normal healthy leaf tip for reference: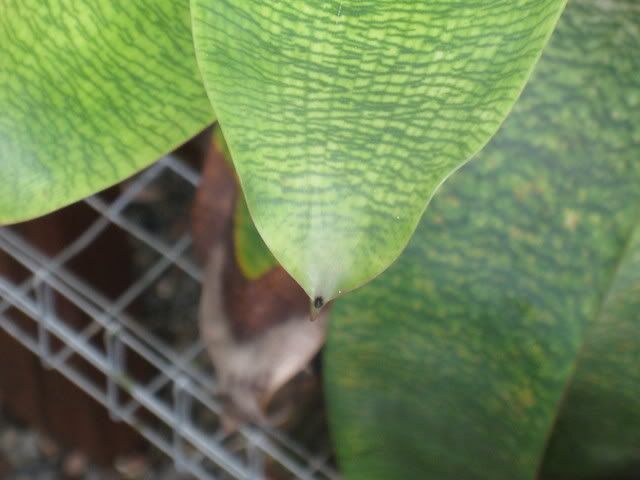 Close-up of leaf tip just starting to die back - pretty much the same pattern each time - tip goes yellow, then yellow starts to move down leaf followed by brown, taking 2-3 weeks to go from tip to near base: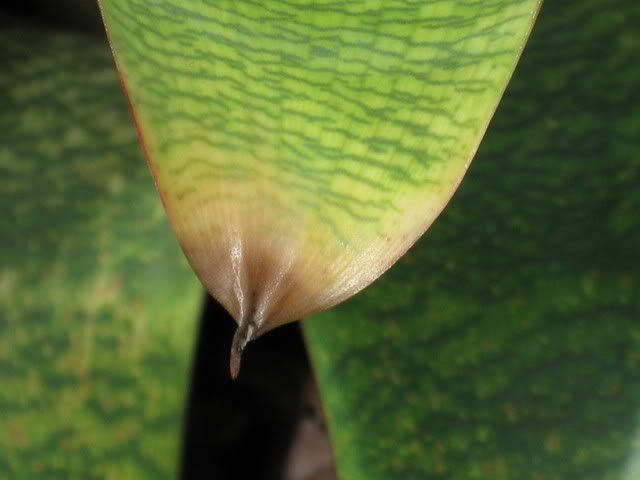 Always seems to stop a bit above the base of the leaf, at around the time that another leaf or two start:
A Vr. ospinae ospinae did the same thing 6 months ago - but only on one of the two heads coming off the same stem, then whatever it was stopped and it grew past it. Now it is doing it again. The first time I though it was sun-burn, but now I can be certain it isn't: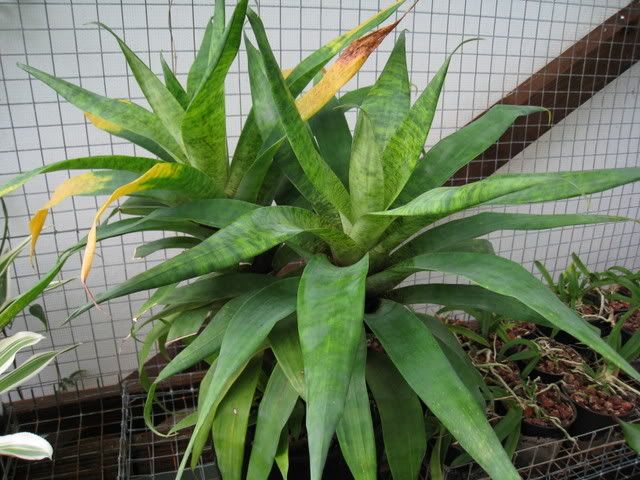 The Vr. o. ospinae and Snows of Mauna Kea are in different places. I've pulled both of them out of their pots and their roots and potting mix (medium good pine bark) look and smell fine. The plants smell fine. Other Vriesea's next to them are fine. Other Vr. ospinae ospinae & gruberi's nearby are fine. They all seem to be getting the same treatment with fertiliser and watering.
I'd be really grateful if anyone knows what this could be. The only thing I can think of is that the plant is trying to get rid of some sort of toxic substance by storing it away in a leaf then killing the leaf off. Problem is, why aren't other plants affected? It has me beat. Love to hear from you.
All the best and cheers, Paul