tips on bromeliad care and pup separation
ive had this bromeliad for nearly a year. i bought it after it finished blooming. it has 2 pups atm, 1 pup 5 inches tall and the other 3 inches tall. i dont know how to separate pup. the parent is 7 inches tall. i wouldnt mind repotting the plant but im unsure of the pot size given the pups nor the soil to use. im willing to progressively go to a pot size maximum of 8 inches once the current pups get to full size. atm the plant is in a 4 inch pot.
when i do have to seperate pups, how far do i have to dig to get sufficient soil and roots out without damaging either plant?
i do have some orchid fertilizer though no bromeliad fet specifically. i havent yet fertilized mine. bromeliad fertilizer are 17 8 22 while orchid fert is 19 31 17. id be willing to use the orchid fert only if the phosporus wont burn or damage bromeliads.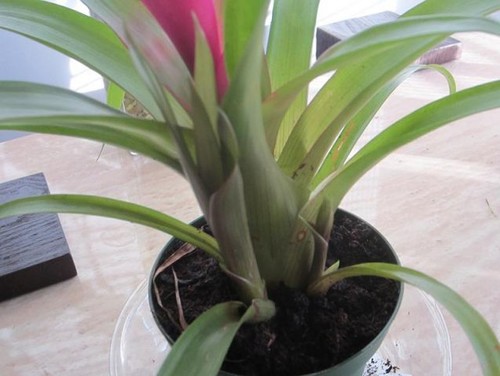 This post was edited by x207 on Tue, Feb 5, 13 at 13:14